A Reported Shortage of Dialysis Machines Puts a Focus on Aquadex.
Aquadex Smartflow System is being used to remove excess fluid from patients being treated with fluid resuscitation as part of the treatment for COVID-19, and in some cases is helping to relieve the shortage of dialysis machines at a growing number of hospitals.
A Simple, and easy set‐up allows for a 4:1 nurse to patient ratio, whereas the ratio with dialysis machines is 1:1.
Aquadex provide healthcare professionals with a reliable and sophisticated, yet easy to use, mechanical pump and filter system to remove excess fluid in fluid overloaded patients.
With the significant shortage in dialysis and fluid management machines due to COVID-19, Aquadex devices with immediate supply can change the negative sentiment.
In addition to systems sales, CHFS captures recurring revenue from the sale of single-use disposables (Blood Filtration Set) required for each Aquadex SmartFlow treatment session.
Aquadex is a U.S. made system, manufacturing in Minnesota with volume up to 100 a month.
CHF Solution (CHFS) is not the typical biotech company that we are used to; They are a micro-cap medical device company, which have a  fascinating medical device to be used in hospitals for fluid management.  They have received the FDA clearance 510(K) for the U.S., and CE Mark for the European Union and internationally including India for their Aquadex SmartFlow System.
As we know, it is a challenge for a micro-cap company to move from research and development to the marketing and sales stage the day after receiving the regulator's clearance for their medical device. Currently CHFS has a full complement of thirteen sales representatives in charge of their own U.S sales territories. Moreover; the team also consists of fourteen clinical specialist team which can both train professionals on the Aquadex device and increase efficiency and utilization of the devices in each hospital.
Besides the U.S., the international market is a game-changer and will play an essential role in CHFS's future growth. This would transform them into a cash-flow positive within few quarters. John Erb, CHFS' CEO mentioned last month at the Q4 earnings report conference call:
International markets will be increasingly important to our growth, but it wasn't until last year when we obtained our own CE Mark that we could take full advantage of those opportunities.

Last year, we added distributors in Brazil, India, Spain and Greece, joining our long-time partners in Italy, the United Kingdom and Southeast Asia. This year, we have announced new distributors in Germany, Austria and Switzerland, spreading our current international footprint to 13 countries. Much of the impetus for our expansion into new indications has been instigated by physicians who have a deep understanding of the Aquadex system and a passion for better patient care.
Important to note that there are around 20 Aquadex devices in Italy, which have been a valuable asset to the overfilled hospitals due to COVID-19 pandemic. Aquadex has saved patients' lives, as many needed a fluid ultrafiltration to get rid of the excess fluid in their body. The real-life experience brings even more hospitals interest in Aquadex device as they recognized the value of the ultrafiltration and started calling CHFS to ship more consoles and blood filtration sets.
What is fluid overload and fluid management?
Fluid overload, also known as hypervolemia, is a condition in which there is too much fluid in the blood and generally refers to the expansion of the extracellular fluid volume. Although the body does need some amount of fluid to remain healthy, too much can cause an imbalance and damage to an individual's health.
The signs and symptoms of fluid overload include pitting edema, pulmonary edema/pleural effusion, jugular vein distention, dyspnea, or ascites. Medical conditions or diseases where excess fluid accumulates in the body are, heart failure, kidney failure, nephrotic syndrome, cirrhosis, or burn injuries/trauma. Individuals may also suffer from temporary fluid overload following specific surgical procedures, such as cardiac surgery. Fluid overload has a significant association with the combined events of death, infection, bleeding, arrhythmia, and pulmonary edema and is a leading cause of readmissions with patients suffering from heart failure and patients following cardiac surgery.
The condition of fluid overload  can be seen in patients with heart failure. Most of the symptoms of congestive heart failure result from the extracellular fluid volume; for this reason, diuretics have been the cornerstone of heart failure treatment for more than 50 years. Over the past 20 years, approaches to treatment have changed dramatically.These dramatic improvements include new medications and new technologies, such as ultrafiltration, to help treat fluid overload.
COVID-19 and Aquadex sales growth opportunity
Last month CHFS announced the use of its Aquadex therapy in the treatment of patients infected with the COVID-19 in New York City and the state of Georgia. Patients have been treated for volume overload using the Aquadex system.
Last week, CHFS announced a 300% increase in utilization of its Aquadex therapy in patients affected by COVID-19, which is undoubtedly positive. The Aquadex is being used to treat severe COVID-19 cases, and it is good to see that expansion as obviously doctors would not continue to use it if they did not see a real benefit. So, getting a larger installed devices and doctors familiar with the Aquadex system pays off well after the COVID-19 pandemic is over. CHFS expects increased demand for this ultrafiltration therapy as the rate of affected patients that are infected with COVID-19 is likely to increase.
The past  three weeks, the world was struggling to supply enough ventilators to the hospitals, and every T.V. news channel was covering the importance of the ventilators and how hard to get more to every hospital. This is a benefit as now everyone starts understanding that It is not only about ventilators shortage, but also  dialysis machines and fluid management devices, which is the same market CHFS is targeting.
Dialysis machines have their place and are unbelievably valuable to patients whose kidneys are not functioning.  There are many health or disease conditions where the kidneys are healthy but not functioning and the fluid needs removed. Still, dialysis is aggressive on the patient as it requires high blood flow and large amounts of blood processed outside the patient's body going through the dialysis machine.
While the hospital-grade dialysis machine average cost is around $80,000, the Aquadex SmartFlow system is about $35K. Although, the cost difference is not really the issue driver, but rather the clinical need and benefit to the patient is the  real driver.  Aquadex only requires 35 mL of blood outside the patient and filters at 40 mL per minute vs 100 to 300 mL in dialysis  and filters 200 to 400ml per minute. Due to these advantages, the Aquadex system is a better choice in many cases where  it's not a chronic kidney failure patient needing weekly treatments.
So, these days many front lines and ICU doctors realizing that 30% to 40% of their most severely ill patients are developing acute kidney injury, and has been sounding the alarm that a life-saving fluid management devices are in short supply and high demand. You cannot treat 40 or 50 patients with only 5 or even 10 machines, so more systems are needed and extremely fast, or the death numbers will continue to ramp up.
CHFS ramping up production
Earlier this month, as the COVID-19 pandemic was hitting higher levels of new confirmed cases, and the death numbers keep growing, CHFS announced that it has doubled the production staff that builds its next generation Aquadex SmartFlow consoles in response to increased demand from hospitals.
I called the company IR to get an idea of the Aquadex system numbers over the U.S. and internationally, to find out that over 250 consoles are scattered in the U.S. and around 100 globally. Their  numbers are growing faster than their projection, which is the reason behind doubling the production staff in their manufacturing facility that is located in Minnesota, with volumes of up to 100 devices a month.
Another important revenue generator is the sales of single-use disposables (Blood Filtration Set) required for each Aquadex SmartFlow treatment session. In the last press release, CHFS mentioned that they saw an increased use of its Aquadex therapy in patients affected by COVID-19. The sales or the disposable blood filtration set, have increased over 300% in the last 30 days, as compared to the monthly-average for 2019.
The cost of the disposable set is $980 for single-use, so with the growing number of patients treated with the Aquadex system, the more filters will be ordered.  This bloom will add to the revenue growth in the near future.
Risk – Toxic balance sheet
As with many micro-cap companies that are entering the marketing stage, cash is well needed and the only tappable source is public offering to raise cash, and start building the distribution channels, looking after the sales to ramp up, and revenue start flowing in, till the day the company turn into cash-flow positive. Meanwhile, old financing with warrants affecting the share price, as warrants holders exercising and selling the shares in the open market, placing a glass ceiling that prevents the share price from going upward, despite the latest positive news, till the warrants numbers decline and investors realize the near-term potential
These days after a few rounds of public and direct financing, CHFS' market-cap is around $13M, trading at the cash level. The $13M will be enough to fund the company activity for the rest of 2020, add to that the increasing demand for Aquadex consoles and the disposable filters, both will generate more cash flow to support CHFS activity for longer period, and prevent any new financing in the near future.
Disposable filters are a great source of cash generator, if we take a hospital like Mount-Sinai as an example, they have 13 devices, using each one to treat at least 2 to 3 patient a day as they are swamp with COVID-19 patients. Still, if we even calculate only one  patient per device, that's thirteen filters a day, so for a full month that is around $380,000 revenue from one hospital. Also, if we make the same calculation for the 250 devices in the U.S., that is about $7.3M a month worth of filters.
CHFS have publicly commented that they expect to be at breakeven by the end of 2021, but that was before the COVID-19 pandemic, that might increase the sales and revenue drastically sooner than later. Furthermore,  also mentioned that the yearly burn rate of 18M last year will be reduced this year as they already built the sales team, and the next year 2021 will need less than half of 2020.
So, if CHFS success to sell at a run rate of ~100 consoles per year, and ~32,000 disposable blood circuits per year, then they will turn into cash flow positive.
If CHFS could not take advantage of the enormous demand for fluid control devices during this pandemic, then there would be no choice other than another equity dilution, and more pressure on the share price.
Technical analysis
The past two years CHFS' share price suffered from a high selling pressure due to both, the public offerings and the markets condition, the result was a huge nosedive.  But we can feel a sentiment change during the past few months, noticing the strong base formed at the low of $0.30, where the price touched that level three times and bounces back, and start developing a triangle pattern with a triple bottom.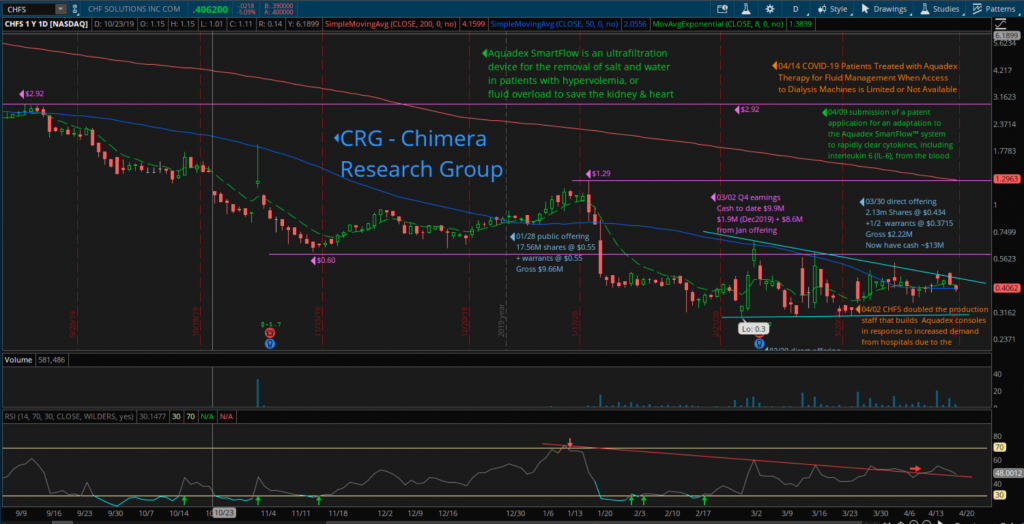 The 50MA breakout and closing above, show that the momentum starts changing as the the RSI broke out its downtrend line even before the price doing so, hinting that the positive momentum is building up and the chances to see the triangle's upper line (light blue) breakout are higher than retesting the base again.
For the conservative investor, he would like to wait till the triangle's upper line breakout and closing  above the $0.48 point to start a position, while aggressive investor will buy at any price between $0.30 to $0.45 to get in early, but keep the $0.30 as a stop line to close the position in case of breaking down & closing below the line.
In case of breaking out the triangle's upper line, the next target is the $0.60 area followed by the March 2nd high of $0.675, while the $1.29 line is the real target if CHFS surprise the market with large orders numbers in the next market update.
Disclosure: Author is LONG CHFS.