It was a surprising and unexpected decision by Sarepta to release the long term data from the first clinical trial of DMD Gene-Therapy, a 2-years data to be presented at the World Muscle Society WMS25 Virtual Congress, despite the previous statements saying, we do not want to release data from an open label study while our placebo controlled trial is ongoing.
The data will be presented at a live webcast on Monday morning at 8:30 am ET, presenting the 2-years follow-up from SRPT-9001, Study-101 Ph-1/2 microdystrophin DMD gene therapy, and SRP-9003 trial in LGMD-2E gene therapy with 18 months follow-up functional data from 3 patients in Cohort-1 with the low dose 5E13 vg/kg, while the follow-up after Cohort-2 with the high dose 2E14 vg/kg continue for now.
What important points to watch?
The first look will be focusing on the 2-years functional data, and comparing it to the 1-year functional data that has been published at JAMA Neurology publication earlier this year.
In the open-label trial, Study 101, 4 ambulatory kids between the ages of 4 and 7 were treated with an infusion of SRP-9001 at a dose of 2E14 vg/kg. The therapy was safe and tolerable in all participants over the one-year time period. All adverse events were considered mild or moderate, and there were no serious adverse events or evidence of complement activation.
At 12 weeks, muscle dystrophin levels demonstrated a mean of 81.2% muscle fibers expressing micro-dystrophin with a mean intensity at the sarcolemma by immunohistochemistry of 96% compared to normal biopsies. Adjusted for fat and fibrotic tissue, western blot showed a mean expression of 95.8%. All participants had confirmed vector transduction and showed functional improvement on the North Star Ambulatory Assessment scale (NSAA) and reduced creatine kinase (CK) levels that were maintained through one year.
So, the 1-year functional data showed a robust benefit, as summarized at the JAMA publication:
Micro-dystrophin Gene Transfer Association With Protection Against Muscle Damage

Baseline age: Patient #1 is 5 years, #2 is 4 years, #3 is 6 years & #4 is 4 years
The street will try to compare the 2-years functional data versus the 1-year data and see if the 4 patients maintain or even improve in the NSAA tests, but it's important to note that the kids' age has a huge factor to take in consideration, while the age of the patients at the baseline was 5, 4, 6 and 4 years, at the 2-years data 2 kids will be at age of 6, one kid at 7 and one at age of 8 years old, where the decline in DMD kids starts showing up significantly. So, I see any data that shows maintenance of NSAA score and keeping a low level of CK as well, would be a positive sign of durability. Even if the older 2 kids 7 and 8 years old show "no change" or a slight decline of 1 to 2 points will not indicate a problematic data, since the natural history show that at age 7 to 8 DMD kids decline by 4 units per year, so if the 8 years old kid show no decline, that will be overwhelming positive for the study.
LGMD-2E program 18 months data
Back in June 2020 Sarepta released 1-year functional data from Cohort-1 with a low dose of 5E13 vg/kg, the first 3 patients at ages 13, 14 and 13 years and all patients improved in all functional endpoints.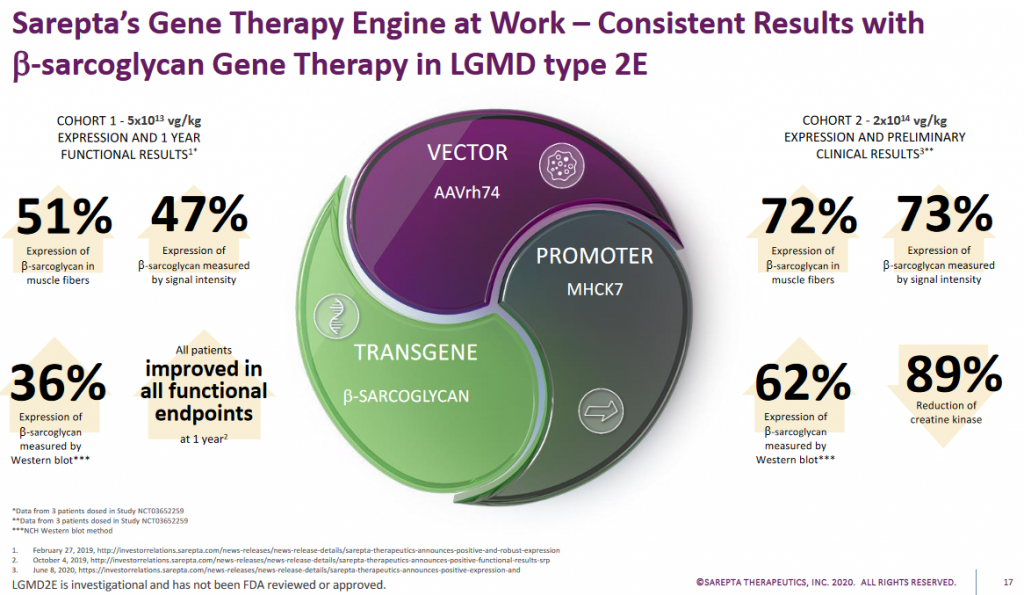 Any maintenance of functional test with NSAD scores will be seen as positive, especially that cohort-1 is using the lower dose, while Cohort-2 was up to the same dose level as the DMD study, at 2E14 and most likely will be chosen to continue as the therapeutic dose in Phase-3 study to start early in 2021.
Cohort 1 -Summary of Functional Data at 1-Year
ALL SUBJECTS SHOWED IMPROVEMENT IN ALL FUNCTIONAL MEASURES
Beside the NSAD scores, we will be watching the CK levels in all 3 patients, expecting to keep the 72% reduction from baseline at least, and any higher reduction at 18 months will be seen as another positive sign, but again as the higher dose is the one to continue to Phae-3 I see this data as good, but not crucial for the pathway forward.
Disclosure: Author is LONG SRPT equity and options.