• Regenerative medicine company with late-stage studies in 3 indications
• Ready to use GMP-certified manufacturing facility for PLX cells
• Aging is often associated with debilitating medical conditions, massive unmet needs
• Over 617 million people in the world are over 65 years old
• Over 70 million people in the U.S. are over 60 years old
• Around 2 to 3.4 million CLI patients in the US
PLURISTEM (PSTI) a Regenerative Medicine company, developer of placenta-based cell therapy product candidates for the treatment of multiple ischemic, inflammatory and hematologic conditions, company I'm following for years.  Pluristem trading under the radar and getting even more interesting these days as they already entered late-stage studies in 3 indications, gained the FDA's Fast Track Designation, EMA's adaptive pathway and Japan's Accelerated Pathway for Regenerative Medicine
Pluristem's management is highly appreciated by various regulators around the world, whether in Europe, which has been selected to take part in the accelerated pathway, called Adaptive-Pathways by the EMA, and to receive significant financial support covering a large part of the clinical trials' cost through the Horizon 2020 program. In Japan, the regulatory accelerated pathway was accepted by the PMDA, and in the US with the FDA's Fast Track designation for the CLI trial.
Last month, I met the management and visited their impressive FDA approved facility, they are manufacturing their own cells from placenta, using a proprietary 3D bioreactor. Pluristem GMP-certified manufacturing facility for PLX-PAD cells have been approved by the FDA and the German, EU, South Korean, Japanese & Israeli regulatory agencies for 3D culturing to supply cells for clinical trials and marketing.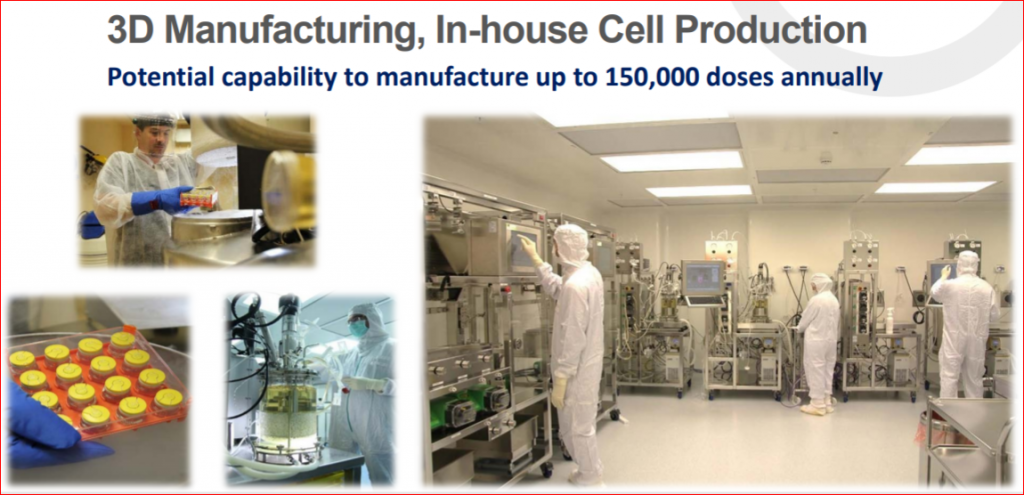 Wide and advanced Pipeline
Pluristem is working tirelessly to become the regenerative medicine leader in the world, focusing on the PAD – Peripheral Artery Disease, already positioned itself as the leader of the "placenta derived" cell source and one of the most significant players in regenerative medicine space.
• Pluristem gained the FDA Fast Track Designation for the Phase 3 CLI (Critical Limb Ischemia) Study, and currently enrolling patients in this multinational Phase-3 study of PLX-PAD cells for the treatment of CLI in the both the U.S. and Europe where all 39 clinical sites are currently recruiting patients (Link). This trial was awarded an $8 million grant from the European Horizon 2020 program. The CLI study is using the same dose that has been validated with the earlier IC Phase 2 study, using the same dose of 300 million PLX-PAD cells as the optimal dose for treatment of PAD, also the two administrations of 300 million PLX-PAD cells demonstrated a statistically significant superior effect (p=0.0331) compared to a single administration of 300 million PLX-PAD cells in MWD- Maximum Walking Distance at week 52, suggesting that in chronic indications such as PAD a second treatment may be required to significantly improve the clinical outcome.
• Pluristem completed a multinational, randomized, double blind, placebo-controlled Phase 2 study (n=172) of PLX-PAD in Intermittent Claudication (IC), a mid-stage peripheral artery disease, in the U.S., Germany, Israel, and South Korea. And back in June has published positive top-line results. The PLX-PAD treatment reduced Incidence of revascularization and improved patients' mobility. Study results also validate the design of Pluristem's ongoing Pivotal Phase 3 study in CLI, the more severe stage of peripheral arterial disease (PAD) and confirmed Pluristem's proprietary Bio-Therapeutic approach.
• A month ago, Pluristem also announced that its ongoing Phase 3 study for the treatment of muscle injury following hip fracture, which is underway in the U.S. and Israel (Link), has been cleared to enroll additional patients in Denmark, Germany and the United Kingdom. The study is being funded in part by an $8.7 million grant from the European Horizon 2020 Program as well.
• Pluristem's third late stage program with PLX-R18 also was granted "Orphan Drug Designation" by the FDA for the treatment of Acute Radiation Syndrome (ARS), which may accelerate the path to potential marketing approval and includes a seven-year grant market exclusivity upon marketing approval. Pluristem's ARS trial is supported and conducted by the National Institutes of Health (NIH), the U.S. Department of Defense (DoD) and Fukushima Medical University.
• A year ago, Pluristem announced that a pilot study of PLX-R18 cell therapy will be initiated by the U.S. DoD-Department of Defense's Armed Forces Radiobiology Research Institute, part of the Uniformed Services University of Health Sciences. The study will examine the effectiveness of PLX-R18 as a treatment for ARS prior to, and within the first 24 hours of exposure to radiation. The study will be conducted in parallel to the ongoing project with the NIH and in accordance with the FDA Animal Rule pathway. Another collaboration agreement with the DOD and its United States Army Medical Research Institute of Chemical Defense (USAMRICD) is to study Pluristem's PLX-R18 cell therapy product in the treatment of long-term lung injuries following exposure to mustard gas.FDA approval will bring a significant value to the company and place it under the spotlights, Pluristem is looking for NIH, BARDA and the DoD stockpiling and a large-scale purchase by worldwide countries who are in need to store an antidote to the growing terroristic threat faced around the globe.
• Another interesting study by Pluristem is the hematological Phase 1 study of PLX-R18 cells for the treatment of incomplete hematopoietic recovery following HCT – hematopoietic cell transplantation (Link). The study is already recruiting patients in the United States and Israel. Up to 24 patients will be recruited in total from both the United States and Israel. Preliminary data from first cohort (n=3) has been presented at ASH-2018 meeting (Link). The treatment was found to be safe and well tolerated, with no unexpected toxicities. All safety data had been reviewed by an external safety committee and based on the safety presented to them study was approved to move forward. In addition, early signals of efficacy in improving blood counts were observed. These days Pluristem is enrolling the second cohort of patients to be evaluated the second dose of two million cells per kilogram (n=6), while the third dose will be four million cells per kilogram (n=15).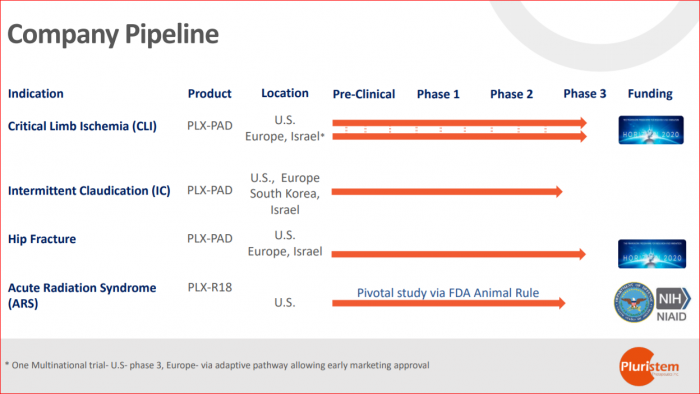 New FDA supporting innovation and regenerative medicine:
Last year the FDA announces comprehensive regenerative medicine policy framework, followed with a series of tweets by the FDA commissioner Scott Gottlieb which say "announcing a comprehensive policy framework for the proper development and oversight of regenerative medicine products to spur innovation, efficient access to potentially transformative products, while ensuring safety and efficacy"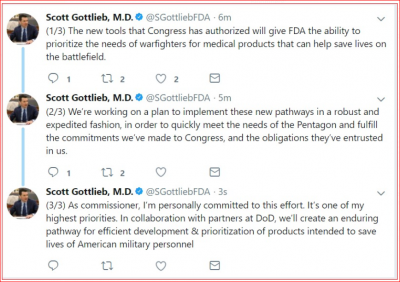 "We're at the beginning of a paradigm change in medicine with the promise of being able to facilitate regeneration of parts of the human body, where cells and tissues can be engineered to grow healthy, functional organs to replace diseased ones; new genes can be introduced into the body to combat disease; and adult stem cells can generate replacements for cells that are lost to injury or disease. This is no longer the stuff of science fiction. This is the practical promise of modern applications of regenerative medicine," said FDA Commissioner Scott Gottlieb, M.D. "
This shift in the FDA will make Pluristem life easier, they can advance the CLI indication faster than we anticipate.
CLI – Critical Limb Ischemia, a $3 to $5 billion Market Opportunity
PAD – peripheral artery disease is primarily caused by atherosclerosis, a buildup of cholesterol and fatty deposits (plaque) which narrows or blocks blood flow to the arteries leading to the arms, legs and feet. The blockage can cause poor circulation, pain while walking, and changes in skin color. CLI is the most severe and deadly form of peripheral artery disease (PAD) and associated with excessively high risk for cardiovascular events, including myocardial infarction, and death.
Diabetes, smoking and obesity are among the factors that increase the risk of developing peripheral artery disease. Mortality rates in CLI patients are as high as 20% within 6 months from diagnosis and exceeding 50% at 5 years have been reported for CLI, whereas 1‐year mortality rates in nonrevascularizable, so‐called no‐option CLI patients range from 10% to 40% (Link to NCBI paper).
CLI condition begins as open sores that don't heal, an injury, or an infection of the patient feet or legs. CLI occurs when such injuries or infections progress and cause tissue death (gangrene), sometimes requiring amputation of the affected limb.
Besides poor survival rates, prognosis with respect to limb preservation in CLI patients is poor, particularly in no‐option CLI patients, where 6‐month major amputation rates have been reported to range from 10% to 40%. Additionally, CLI is associated with poor quality of life (QoL) and high treatment costs, especially when amputation is inevitable. With an estimated yearly incidence of 500 to 1000 new cases per million individuals in Western society, which is ever increasing in concert with the increase in cardiovascular risk factors, CLI poses a substantial burden on patients, healthcare providers, and resources, with average per patient charges for CLI of almost $64,000 modestly exceeded average charges for heart attack and were twice as high as those for stroke.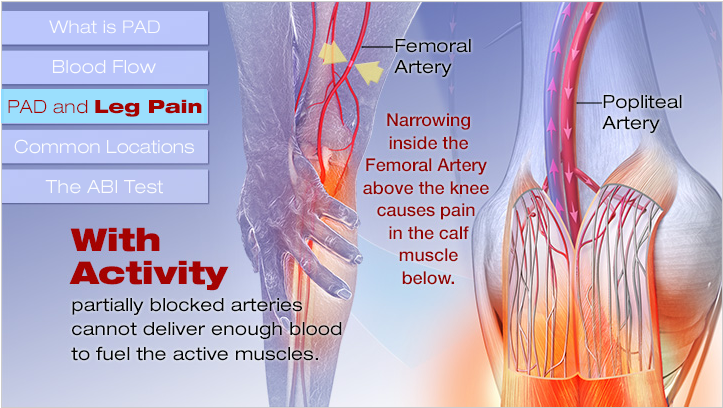 Source: American Heart Association
According to THE SAGE GROUP report (Link), there are an estimated 2.0 to 3.4 million U.S. citizens with CLI.
The Rutherford system categorizes CLI by severity into three stages:
1. rest pain (R-4)
2. Minor tissue loss – nonhealing ulcers (R-5)
3. Sever tissue loss or gangrene (R-6).
Mortality and the risk of amputation increase with Rutherford Category. Treatment costs also increase with disease severity.
Regarding the healthcare costs, "Over the last 10 years, CLI patients have increased as a percentage of PAD patients treated. Since treatment costs increase with severity, this is a significant factor driving PAD costs upward."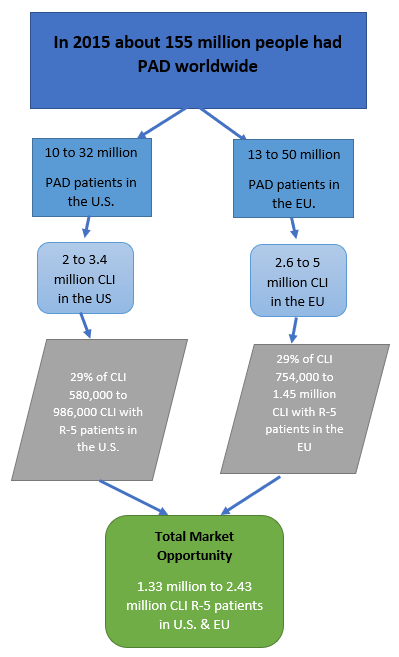 Estimate US Market opportunity depends on the drug pricing after FDA approval, if Pluristem are planning to charge for the EAP (Expanded Access Program approved by the FDA) around $30,000, then we can assume the pricing of $29,000 to $50,000 or even $75,000 are reasonable and will not only improve patients' QoL (Quality of Life), but will also contribute to the cost reduction in the healthcare spending, especially if we take in consideration the amputation cost of $55,000 per patient.
In this table we can see the total market opportunity in the US and EU markets, with estimated CLI patients and several options of pricing, depend on the insurer's agreement.

The amounts are mind blowing, assuming that Pluristem might capture in the first 2 years only 10% to 15% of the US and EU market, there is an enormous opportunity waiting for the first company to be approved in this unmet need disease, and huge investment opportunity in an underappreciated & undervalued company trading at only $120 million market-cap!
Current treatment options have limitations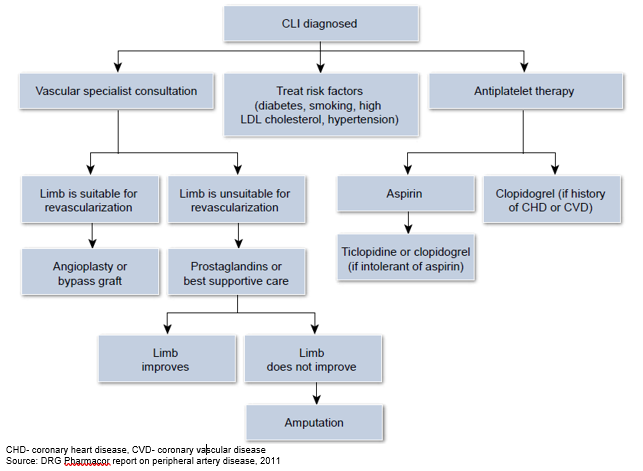 Treatment of CLI depends upon the location of the ischemia and its severity. However, for all forms of ischemia, controlling risk factors, especially smoking cessation, is essential, it may prevent progression of the ischemia and save the patient limb and his life. Treatment is focused upon getting more blood supply to the area of ischemia.
Physicians and patients are increasingly choosing endovascular treatment as the first line, including angioplasty, for the treatment of PAD and CLI. Balloons therapy are becoming more important than ever as a front-line therapy in the battle against CLI, by inserting a small balloon into the diseased section of the artery, the artery can be expanded to improve blood flow. However, operators still find themselves in situations where the resistant nature of the plaque fails to yield to the balloon method in general, and the arterial wall may become damaged during this process.
In some cases, a surgical revascularization or bypass of the affected artery may be performed. Either a segment of leg vein or an artificial tube is attached surgically above and below the blockage to bypass the blocked area allowing the blood to reach the area of ischemia beyond the blockage.
According to new research published in the Journal of the American Heart Association.
Clinical outcomes and healthcare costs over 4 years were estimated among all patients and by first treatment (endovascular revascularization, surgical revascularization, or major amputation) in unmatched and propensity‐score–matched samples.
Among 72,199 patients with initial primary critical limb ischemia diagnosis in 2011, survival was 46% (median survival, 3.5 years) and freedom from major amputation was 87%.
Among 9942 propensity‐score–matched patients (8% rest pain, 26% ulcer, and 66% gangrene), survival was 38% with endovascular revascularization (median survival, 2.7 years), 40% with surgical revascularization (median survival, 2.9 years), and 23% with major amputation (median survival, 1.3 years; P<0.001 for each revascularization procedure versus major amputation).
Corresponding major amputation rates were 6.5%, 9.6%, and 10.6%, respectively (P<0.001 for all pair‐wise comparisons). The cost per patient year during follow‐up was $49 700, and amputation was $55 700.
The researchers found survival rates were 38% with endovascular revascularization and 40% with surgical revascularization. Patients who underwent major amputation only had a 23 percent chance of survival.

Major amputation rates at follow-up were 6.5% for endovascular revascularization, 9.6% for surgical revascularization and 10.6% for primary major amputation.

When the researchers reviewed costs associated with each treatment, they found surgical revascularization was the most cost-effective treatment at $49,200, then endovascular revascularization at $49,700 and amputation was $55,700.
Unfortunately, in about 15%-29% of CLI patients, literature data showed that revascularization is not possible or not effective. For these patients the risk of major amputation is very high. This condition is defined as no-option CLI, it is most frequent in patients with diabetes and end-stage renal disease, who have below the knee and below the ankle heavily calcified arteries.
According to the Sage Group research, CLI patients with gangrene cost the healthcare system in the US around $1.8 billion in the year 2012 and keep growing, while CLI and IC (Intermittent Claudication) account for 20% of Medicare PAD discharge. The average amount billed to Medicare for a patient with CLI and gangrene was $70,382 while the average billed for a patient with IC was $49,338.
 PLX–PAD the Promising regenerative Medicine
While some non-surgical treatments exist to relieve pain and provide local ulcer care, most patients will ultimately need revascularization with vascular bypass surgery or an endovascular procedure to try to prevent a major limb amputation and prolong survival. However, up to 29% of patients are unsuitable for revascularization and experience up to a 40% amputation rate at 1 year.
PLacental eXpanded (PLX) cells are placenta-derived, mesenchymal-like adherent stromal cells that are designed to be administered to patients without the need for tissue or genetic matching. These cells release soluble biomolecules, such as cytokines, chemokines and growth factors, which act in a paracrine or endocrine manner to facilitate healing of damaged tissue by stimulating the body's own regenerative mechanisms.
PLX-PAD cells respond to chemical distress signals from tissues that have been damaged by ischemia (inadequate blood flow), muscle trauma, or inflammation, by secreting a range of therapeutic proteins that trigger the body's own repair mechanisms. These secreted biological proteins drive the body to grow collateral blood vessels to bring oxygenated blood to ischemic tissue, heal damaged muscle, and dampen inflammation. PLX-PAD cells also modulate the immune system, which plays a central role in the body's response to injuries.
PLX-PAD is being developed in clinical trials for CLI – Critical Limb Ischemia via accelerated regulatory pathways. Pluristem has been granted FDA Fast Track Approval and was accepted to the FDA Expanded Access Program (EAP), EMA Adaptive Regulatory Pathway and PMDA Accelerated Regulatory Pathway.
The EAP – Expanded access program has been cleared by the FDA earlier this year and approved cost recovery for PLX-PAD under EAP in the treatment of critical limb ischemia. We see the EAP as a huge step up for CLI patients and for Pluristem as well, it will play a big part in patients QoL-Quality of Life, as we all know that QoL issues are big deal. Big for patients, big for insurance, big for press and big for investors.
An initial 100 Rutherford-5 CLI patients who are ineligible for inclusion under Pluristem's ongoing Phase 3 study protocol, and whose condition is life-threatening, will be enrolled in the EAP. The FDA's decision to approve this EAP with cost-recovery for this novel and potentially life-saving cell therapy reflects the FDA's comfort with the safety profile of PLX-PAD, a true vote of confidence and recognition of its potential use in treating CLI patients who have few remaining treatment options. Pluristem choose WideTrial a privately-held third-party sponsor of authorized EAP and the FDA has authorized WideTrial to charge payment for the PLX-PAD EAP treatment, where most likely a charge in the range of $30,000 per patients would be consider a low charge versus the cost of amputation that is around $55,700. Moreover; The EAP can also generate real world data from a wider range of patients in the target population and expected to yield a significant body of evidence that might support the safety and efficacy of PLX-PAD and may represent a significant advancement in the treatment of CLI.
Pluristem intends to apply for marketing approval in the US after completing the Phase 3 trial with 246 patients. But an interesting point that can accelerate the CLI indication approval in the EU, Pluristem will apply for accelerated approval and conditional marketing in Europe if the interim results show efficacy from the first 125 patients (the first half of all patients in the trial). If we estimate enrolling around 125 patients by end of 1Q 2019, then anticipate top line results by year end 2019, and BLA submission in the EU for a chance of approval by year end 2020.
The human story behind the drug
It could be your wife or husband, mom, dad or grandparents who are going through the hard process of diagnosis and fast progression of the disease from PAD or IC to CLI
In this story (Link) Michael Hill, the New-Jersey TV reporters is bringing us the 76 years old Robert Masterson who is only the second person in the U.S. to get stem cell injections in a clinical trial that could save his life.
Source: NJTV
"There are various trials underway now, largely conducted by the surgical community, looking at ways to preserve surgery and major bypass in patients who have wounds that won't heal. And, I've always said that sort of like trying to preserve the rotary phone.

It doesn't make any sense trying to preserve something that hasn't changed in 50 or 100 years. And that actually even the things that we do, in general which are very sophisticated ways of opening blood vessels and restoring blood flow, should not be the way we are thinking. We should be thinking to the future of therapies whereby we provide biological solutions, stem cells, genetic therapies, personalized medicine, that really recruit the body's own healing capacity," said Dr. John Rundback, Interventional Institute director at Holy Name Medical Center.
Pluristem CLI Phase 3 clinical trial has the potential to bring hope for all CLI patients that currently have no other medical solution. CLI patients who are looking to save their limbs from amputation, and literally their lives. Many will choose the non-surgical regenerative medicine option over revascularization surgery and might be the last hope for the non-option CLI patients, who went through several revascularization surgeries that failed and have no other option before amputation.
Pluristem Financials
Pluristem reported $22.5 million in cash last quarter and has approximately $10 million in future Payments from approved Grants, which provides the company with sufficient resources to fund research, development and operations first quarter of fiscal year 2020. On the top of the cash in hands, Pluristem is targeting contract with the US Government (NIH and or BARDA) with the ARS (Acute Radiation Syndrome) drug in 2019, the stockpile order may inject $30 to $40 million to the company and help them to maintain operation towards the end of 2021.
Lately Pluristem entered into license agreement with "Thermo Fisher Scientific" and "Chart", both will turn into another source generating royalties and revenue in the near future. The first agreement was a strategic collaboration with Thermo Fisher Scientific to advance fundamental knowledge of cell therapy industrialization and to improve quality control of the end-to-end supply chain, while the license agreement with a subsidiary of Chart Industries regarding Pluristem's thawing device for cell-based therapies. Per the terms of the agreement, Chart obtains the exclusive rights to manufacture and market the thawing device in all territories worldwide, excluding China, with Pluristem receiving royalties from sales of the product and supply of an agreed number of devices.
Moreover; as I mentioned before, the FDA CLI EAP (Expanded Access Program) can start generating revenue starting this month, charging around $30,000 per patient. An initial 100 Rutherford-5 CLI patients who are ineligible for inclusion under Pluristem's ongoing Phase 3 study protocol, and whose condition is life-threatening, will be enrolled in the EAP. In total these 3 programs can generate several millions of dollars into the year 2019.
Conclusion
If we consider only one indication from Pluristem pipeline, the CLI alone can generate a multi-billion Dollar revenue within first 2 years post approval, which show how underestimated the company is these days, trading under-the-radar with market-cap of only ~$120 million. By applying only 15% of the CLI patients with R-5 in the US, give us around 160,000 patients, even if we consider the lowest pricing level of $29,000 (which is very low and most likely will be set around mid-level $50,000) this give us around $4.64 billion of revenue in the U.S. and equivalent amount in the E.U.
The EAP in the U.S. show FDA's comfort with the safety profile of PLX-PAD, and the confidence of its potential use in treating CLI patients who have no other treatment options, so we will give 60% chance of study success and reaching the market in the EU by 2020 and in the US by 2021. On the other side, like any other clinical trial there is a risk of failing to reach a statistically significant results vs. placebo, and in this case the risk of a significant drop in the company valuation would be expected.
Disclosure: Author is Long PSTI