Cardiol Therapeutics (CRTPF) is a Canadian company that completed its initial public offering (IPO) on the Toronto Stock Exchange (the "TSX") back in December 2018 and trades mainly on the TSX under the symbol CRDL while in the U.S. it trades on the OTCQX under the symbol CRTPF. Cardiol is focused on producing pharmaceutical cannabidiol (CBD) products and developing innovative therapies for heart diseases, targeting acute myocarditis and other causes of heart failure.
Cardiol's pharmaceutically produced ultra-pure medical cannabidiol (CBD) product is manufactured under cGMP and is THC free (<5 ppm)
Cardiol plans to commercialize CardiolRx in the $1.2 billion market for medicinal cannabinoids in Canada and is pursuing distribution opportunities in Europe and Latin America.
Supplier Agreement signed with Canada's largest retail pharmacy chain, Shoppers Drug Mart, to become the exclusive retailer of Cardiol's CardiolRx brand in all provinces and territories in Canada through Shoppers' online store.
Cardiol's pharmaceutical CBD will provide the Company with a significant near-term revenue opportunity.
Initiate Orphan Drug Program targeting life-threatening inflammatory heart disease and planning a clinical program for acute myocarditis.
Medical CBD is commonly used by patients to reduce anxiety and depression, treat seizure disorder (epilepsy), and to help manage pain across a variety of diseases.
Cardiol's lead product, CardiolRx, is formulated to be the most consistent cannabidiol formulation on the market. CardiolRx is pharmaceutically produced, manufactured under cGMP, and is THC free (<5 ppm). The Company plans to commercialize CardiolRx in the billion-dollar market for medicinal cannabinoids in Canada and is pursuing distribution opportunities in Europe and Latin America.
Cardiol is NOT a cannabis company but focuses its therapeutic strategy around the API (Active Pharmaceutical Ingredient), cannabidiol (CBD).  While their pharmaceutical CBD will start generating cash flow as soon as the largest pharmacy chain in Canada, Shoppers Drug Mart starts selling the final product and delivering it to patients across Canada, turning the CBD into long-term value creation, I'm interested mostly in the clinical trials Cardiol are planning to start this year. Cardiol is planning an international clinical study of CardiolRx in acute myocarditis, a condition caused by inflammation in heart tissue, which remains the most common cause of sudden cardiac death in people less than 35 years of age. Cardiol is also developing proprietary nanotechnology to uniquely deliver pharmaceutical cannabidiol and other anti-inflammatory drugs directly to sites of inflammation in the heart associated with heart failure. Heart failure is the leading cause of death and hospitalization in North America with associated annual healthcare costs in the U.S. alone exceeding $30 billion.
The CBD market potential in Canada and worldwide:
Initially, Cardiol will be focused on the Canadian medical CBD market. While registered medical patients have been able to access cannabis-derived cannabidiol (CBD) oils legally in Canada since 2001, despite the legalization, it was only allowed to those suffering from medical conditions and with a doctor's script. In 2016, this law was changed under the Access to Cannabis for Medical Purposes Regulations (ACMPR), allowing anyone with a medical marijuana prescription to use it and grow it under the guidance of a health practitioner. Since then, the popularity of CBD oil in Canada continues to rise while the supply cannot reach the demand, causing a shortage in the Canadian market.
The Canadian medical cannabinoid market is only expected to grow, with forecasts calling for more than $1.2 billion of spending by the end of 2020. This places Cardiol in the right spot, with their ability to manufacture their own medicinal CBD in large quantities through their exclusive agreement with Purisys for the manufacture and supply of pure pharmaceutical CBD in Canada and Mexico. Purisys, LLC (Purisys) is an affiliate of Noramco, Inc., a global leader in the manufacture and supply of controlled substances and APIs for the pharmaceutical industry. Purisys can produce pure CBD compounds that can form the starting point for clinical and commercial activities in every market sector.
Cardiol also signed an exclusive global manufacturing agreement with Dalton Pharma Services (Dalton) for the supply of pharmaceutical CBD for commercial introduction. Dalton is a Health Canada approved, FDA registered and inspected, cGMP manufacturer of pharmaceutical cannabinoids, and these days Dalton is working to turn Cardiol's $6 million pre-paid inventory of CBD API to the final product, to be delivered to the new exclusive distributor in Canada, Shoppers Drug Mart, to start the commercial launch and delivery to patients all over Canada.
The evolution from plant-based extraction to pharmaceutical production is very common in the development of new medicines, as it is the simplest way to provide global access to safe, pure, affordable products that consumers, doctors, and pharmacists can understand and trust. In much the same way aspirin was developed after the active ingredient was originally discovered in the bark of a willow tree, bioidentical CBD can now be manufactured without relying on the cannabis plants that need large planting space, monitoring, and disease fighting with pesticides that may get into the final product. With a cGMP Manufacturing facility, which is the only way to make pure consistent medicines, you can manufacture them pharmaceutically at the highest international standards set by the U.S. FDA, Health Canada, the EMA in Europe, and other regulatory bodies that are responsible for ensuring the global safety of medicines.
Cardiol is dedicated to combining their drug formulation expertise with the mass manufacturing scale offered through their pharmaceutical partners, Dalton and Purisys, to make the purest, safest, and most consistent pharmaceutical CBD available to consumers around the world.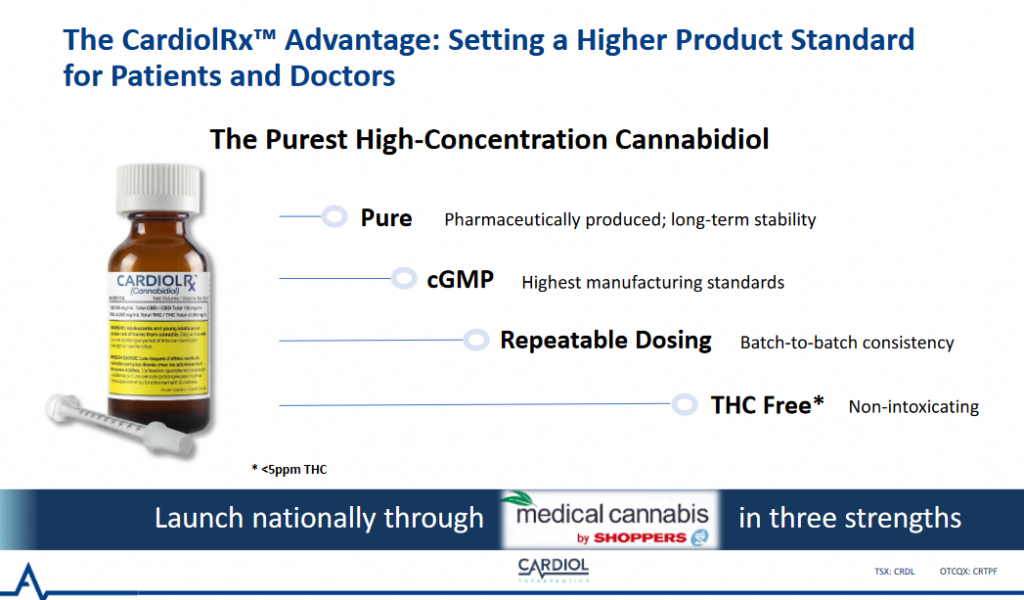 Shoppers Drug Mart Supplier Agreement
On March 18th, Cardiol announced that it had signed a supplier agreement to offer its pharmaceutically produced cannabidiol to Medical Cannabis by Shoppers, a subsidiary of Shoppers Drug Mart. Shoppers has over 1,300 Shoppers Drug Mart and Pharmaprix stores across Canada.
Shoppers will be the exclusive retailer of Cardiol's CardiolRx brand of cannabidiol products in Canada. Under the terms of the agreement, Cardiol's exclusive manufacturing partner, Dalton, will supply Cardiol's pharmaceutical cannabidiol products to Shoppers for resale in all provinces and territories in Canada through Shoppers' online store. The new cannabidiol oil will be branded and manufactured under cGMP and THC free (<5 ppm), designed to be the safest and most consistent pharmaceutical cannabidiol formulations available, and will be sold initially in three dosage formats: 100 mg/mL, 50 mg/mL, and 25 mg/mL.
The fact that Cardiol was able to attract the largest pharmacy chain in Canada shows the importance and need of a high industry standard for purity, stability, safety, and consistency for both patients and healthcare providers in Canada and around the world. This important distribution deal has now positioned Cardiol to meet the growing demand for medical cannabidiol products that are free from the psychotropic effects of THC (<5 ppm).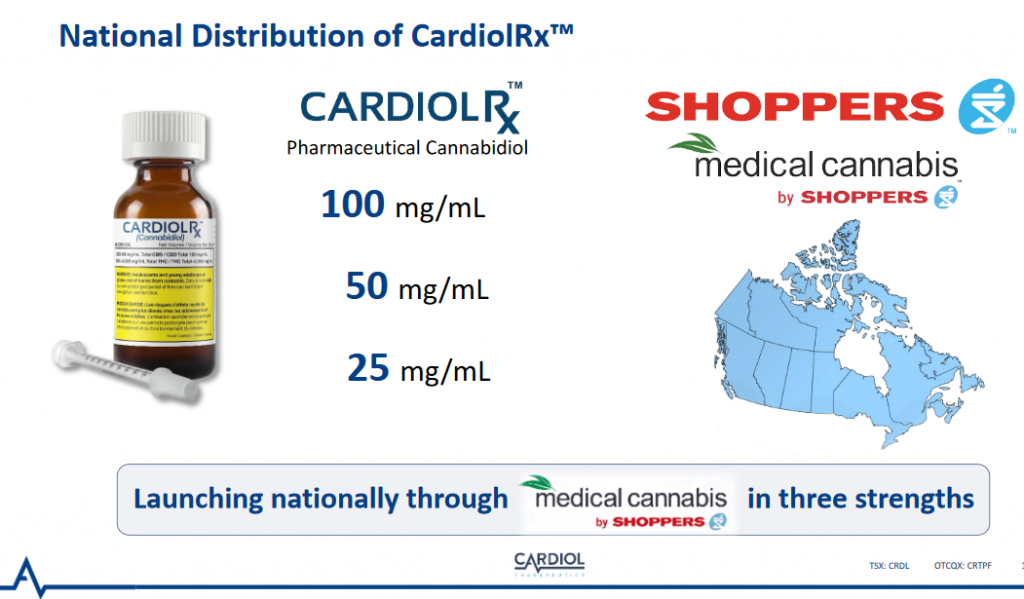 The distribution and commercial launch of CardiolRx in Canada sets the stage for Cardiol to start generating revenue in Q2-2020 that will be used to fund the planned clinical trial in acute myocarditis that is scheduled to start in H2-2020, and provide long-term upside for investors.
Huge opportunity – CBD that is THC free for Pediatrics 
Medical cannabidiol without the psychoactive ingredient THC, which is found in all the botanical CBD oils on the market, is well-needed for elderly patients and is suitable for pediatric use as well.
As mentioned in the Canadian Pediatric Society study: Cannabis and Canada's children and youth. Link: https://www.cps.ca/en/documents/position/cannabis-children-and-youth
"Scientific research over the last 15 years has established that the human brain continues to develop into a person's early 20s. Concern is rising that exposure to cannabis during this important developmental period causes greater adverse effects in adolescents compared with older adults, whose brains are fully developed."
The U.S. orphan drug program was successfully utilized on November 1, 2018, to accelerate the first FDA approval of CBD for the treatment of rare forms of pediatric epilepsy to GW Pharmaceuticals' (GWPH) EPIDIOLEX (cannabidiol) oral solution for the treatment of seizures associated with Lennox-Gastaut syndrome (LGS) or Dravet syndrome in patients two years of age or older. On April 6th, GWPH announced that it received notification from the U.S. Drug Enforcement Administration (DEA) confirming that EPIDIOLEX was no longer subject to the Controlled Substances Act (CSA). This change took effect immediately.
This news could open a huge market for Cardiol's cannabidiol, as it is ultra-pure, THC free (<5 ppm), and it is available in 100 mg/mL concentration, the same concentration as EPIDIOLEX. Any family with an epileptic child will know that they need extra strength cannabidiol, at 100 mg/mL concentration, to have a desirable effect. Cardiol's CBD will be at fraction of the price of GWPH's EPIDOLEX and contains less THC (<5ppm vs. approx. 150ppm).
The Canadian pediatric market opportunity is estimated to be over $120 million annually. With 32,900 pediatric epilepsy patients and 4,500 suffering from Dravets and LGS, Cardiol can take a large cut. An additional 28,400 suffer from other forms of epilepsy. The cannabidiol dosage for Dravets and LGS, as defined by FDA, adds potential for usage in other forms of epilepsy at a lower dose.
There is also a fast-growing market opportunity in patients over the age of 65, where THC causes intoxication and undesirable drug interactions. Cardiol's CBD will be offered as the first pharmaceutically produced cannabidiol that is THC free (<5 ppm).
Acute Myocarditis Clinical Trial
In June 2019, Cardiol announced the planning of an international clinical study of cannabidiol in acute myocarditis utilizing its CardiolRx CBD formulation. Acute myocarditis is a condition characterized by inflammation of the heart muscle (myocardium). The most common cause is viral infection of the heart tissue which is initially responsible for the inflammation. In most cases, the virus clears, and inflammation subsides, but in a significant number of cases the inflammation persists with ongoing myocardial damage and depressed heart function. Although the symptoms are often mild, myocarditis remains an important cause of acute and fulminant heart failure and is the most common cause of sudden cardiac death in people less than 35 years old.
In addition, some patients proceed to develop chronic dilated cardiomyopathy which continues to be the leading indication for cardiac transplantation. Symptoms include chest pain, fatigue, shortness of breath, and arrhythmias. Myocarditis damages heart cells, reducing overall heart function as measured by left ventricular ejection fraction such that the heart does not pump sufficient blood to meet the needs of the body.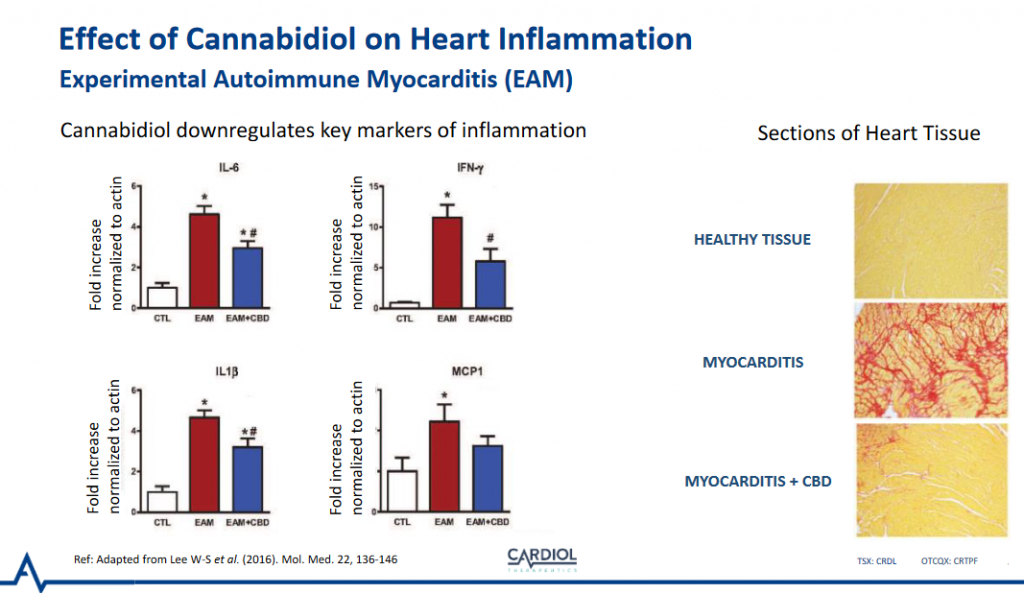 Based on the large body of experimental evidence of the powerful anti-inflammatory activity of CBD in models of cardiovascular disease, there is a significant opportunity to develop a potential breakthrough therapy for acute myocarditis that would be eligible for designation as an orphan drug as it is being developed to treat medical conditions affecting fewer than 200,000 people, similar to GWPH's Epidiolex for LGS and DS.
In the U.S. and the European Union, orphan drugs are eligible for accelerated marketing approvals and companies developing orphan drugs typically receive other incentives, including a prolonged period of market exclusivity that can extend over seven years, during which the drug developer has sole rights to market the drug.
"The US orphan drug program was successfully utilized to accelerate the first FDA approval of CBD for the treatment of rare forms of pediatric epilepsy and significant shareholder value was created in the process," stated Cardiol President and CEO David Elsley. "Given the mortality and significant morbidity risk associated with acute myocarditis, we believe there is a similar opportunity in pursuing an expedited development program of our CardiolRx pharmaceutical CBD formulation for this serious orphan disease which has no accepted standard of care."
There are around 73,000 acute myocarditis patients in the U.S., a much larger number than GWPH's indications in pediatric epilepsy. After approval, GWPH sold $296 million of Epidiolex in its first year of sales and holds a marketing exclusivity that has been granted by Orphan Drug designation, which could be also be the case for Cardiol's acute myocarditis in the future.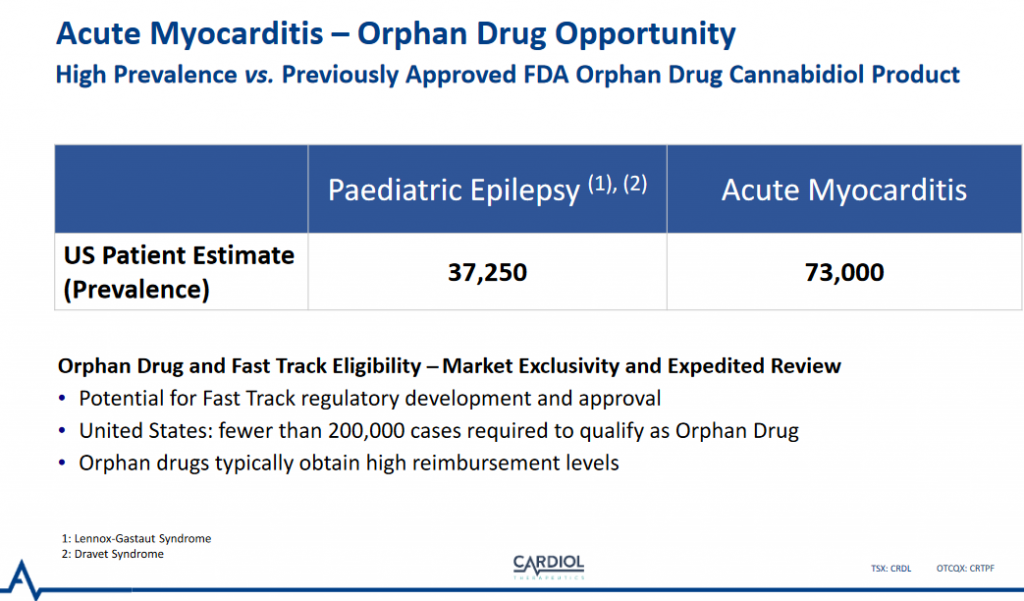 Cardiol continues planning the clinical trial, and in November 2019, announced the formation of the Clinical Steering Committee (CSC) for a Phase 2 international trial in acute myocarditis using the CardiolRx-100 cannabidiol formulation. The CSC is comprised of eight highly-distinguished thought leaders in cardiology from the Cleveland Clinic, the Mayo Clinic, the Houston Methodist DeBakey Heart and Vascular Center, the University of Ottawa Heart Institute, McGill University Health Centre, the University of Pittsburgh Medical Center, and Charité University Medicine Berlin.
Cardiol recently met with the FDA for a pre-IND discussion, and indications are that they would initiate the first arm of its clinical trial in acute myocarditis in 3Q-2020, which is a very important milestone for the Company.
Phase 1 Study of Cardiol's Pharmaceutically Produced Cannabidiol (CBD) Formulation
In March 5, 2020, Cardiol announced the receipt of a No Objection Letter from Health Canada to conduct a Phase 1 study of the Cardiol's pharmaceutically produced high concentration, pure cannabidiol formulation. Cardiol plans to initiate the study in Q2, 2020. The Phase 1 study is designed to measure the pharmacokinetics (blood levels of drug) following single and multiple doses of the extra strength 100mg/mL concentration pharmaceutical cannabidiol formulation in up to up to 55 healthy subjects, both in the fasting and fed states. The study will also measure standard safety parameters at escalating doses to help select the optimal dosing levels for the Company's planned international Phase 2 international trial in acute myocarditis later this year.
Cardiol's CBD and its Cardioprotective Role in a Model of Heart Failure
The effects of Cardiol's pharmaceutically produced (cGMP) cannabidiol were assessed in a model of non-ischemic heart failure. Heart failure was induced by four weeks of infusion of angiotensin II, a substance that produces hypertension, leading to cardiac enlargement, and subsequent heart failure. Two dosages of Cardiol's cannabidiol (or placebo) were administered by subcutaneous injection every three days for four weeks. In addition, the effects of CBD on angiotensin-induced hypertrophy (cell enlargement) and expression of B-type Natriuretic Peptide (BNP) in a cardiac cell line (H9c2) were assessed. BNP is a substance released from stretched heart cells which is a widely used clinical indicator of the severity of heart failure.
The study found that Cardiol's cannabidiol significantly reduced hypertrophy and produced a dose-dependent reduction of key inflammation markers, decreases in fibrosis, and lower BNP expression. These findings demonstrate the anti-inflammatory and anti-fibrotic activity of Cardiol's cannabidiol formulation in a model of heart failure. Moreover, the data show that cannabidiol reduced the amount of BNP released, thereby supporting the role of Cardiol's cannabidiol formulation as a cardioprotective therapy.
Results from this study are supportive of the Company's plans for its Phase 2 international trial in acute myocarditis. This planned study will investigate Cardiol's pharmaceutically produced (cGMP), high concentration, pure cannabidiol formulation that is THC free (<5ppm), in up to 100 patients with acute myocarditis. These data also support Cardiol's plans to develop its cannabidiol formulation for the treatment of chronic heart failure, which remains a leading cause of death and hospitalization in North America with associated annual healthcare costs in the U.S. alone exceeding $30 billion.
Cardiol's Capital Structure
Cardiol has a very closely held share structure, with management, insiders, and strategic pharmaceutical partners owning 37%.  Insider and employee ownership are 27%, manufacturing partners Noramco and Dalton own 5%, and research collaborators Meros, TEC Edmonton, and the University of Alberta own another 5%.
As at December 31, 2019, cash and cash equivalents was $7 million and working capital was $13.7 million, which includes $6.2 million of inventory that I believe has a considerably higher resale value to be distributed in the Canadian markets by Shoppers. As per the latest financial statements from the Company, their cash is sufficient to fund the Company for a full year until the end of Q1-2021, and with the expected coming revenue from the CBD sales in Canada, it will be extended even further, with the expectation that the company will become cash positive within few quarters.
Can CBD help COVID-19 patients with Cardiovascular complications
COVID-19 is an infectious disease caused by severe acute respiratory syndrome coronavirus 2 (SARS-CoV-2). Although in advanced cases SARS-CoV-2 affects the lungs where it causes serious damage, the patient's immune response to the virus, the so called 'cytokine storm', can harm many other organs.  Those with COVID-19 and pre-existing cardiovascular disease (CVD), and other conditions which can affect the cardiovascular system, including diabetes, have an increased risk of severe disease and death. Consequently, COVID-19 has significant implications for the cardiovascular care of patients.
Studies have shown over 40% of patients receiving intensive care suffer some cardiac abnormality including cardiac damage, myocarditis, and arrythmias. Also, complications were more common in patients with cardiac injury, including acute respiratory distress syndrome and acute kidney injury. Patients with cardiac injury were more likely to die than those without (51.2% vs 4.5%). As well as affecting the heart, infection with SARS-CoV-2 also appears to cause constriction of blood vessel resulting in reduced blood flow around the body and particularly to the lungs.
As described above, CBD has been shown to have cardioprotective activities. Furthermore, CBD has also been demonstrated in experimental models to reduce blood vessel constriction thereby improving blood flow, including in diabetes. Taken together, these activities of CBD could potentially provide significant protection against damage to the heart and blood vessels in patients with COVID-19. As much damage to various organs in advanced patients may be caused by the cytokine storm, and CBD has been shown to have anti-inflammatory activities, it is possible that it may also been beneficial in this context.
Technical Analysis
As the stock is more active on the TSX, I will use the Canadian chart of CRDL for the technical analysis. In December 2019, CRDL's share price start recovering from the downtrend and broke up the downtrend line on large volume, and with the new positive momentum, pushed the price upward to form a continuation trend and hitting the high of $5.
But in late February, along with the overall market and the biotech sector plunging due to the COVID-19 pandemic fear, CRDL suffered from a quick drop to reach a new low and touched the downtrend line again, but bounced back sharply on a larger volume than the monthly average, suggesting that the bulls stepped in and took back the control from the sellers, buying all the supply, pushing the price back from the over-sold territories around $2.00 to the $3.00 area.
Breaking out the last high of $3.05 point will bring a new leg-up to test the next target at $3.69, followed by $4.35 and $5.00 resistance lines. While $6.40 is achievable target on any positive news of a good launch numbers in the Canadian medicinal CBD market.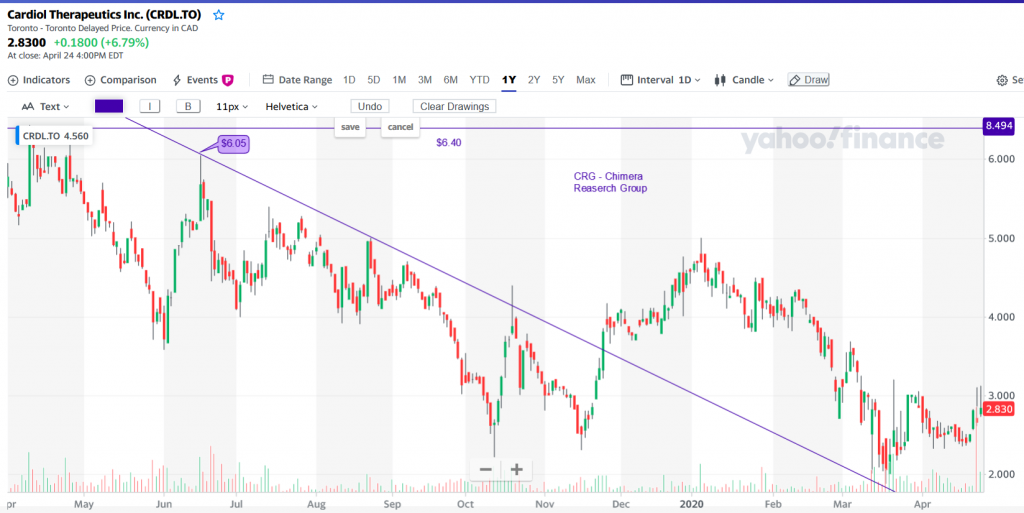 Disclosure: Author has a long position in CRTPF