Sarepta will finally reveal the high dose LGMD2E data from the gene therapy SRP-9003 on Monday morning and put this highly underappreciated program on the big podium.
In a surprising Friday post-market closing press release, Sarepta announced that on Monday, June 8, 2020 at 8:30 am ET, it will host a webcast and conference call to present new data from the ongoing study of SRP-9003 in LGMD2E. Results will include expression and safety results from the 2e14 high dose cohort, and the additional surprise is this update will include one-year functional results from the low dose (5e13) cohort.
Recently, Doug Ingram SRPT's CEO, disclosed that they are already in GMP run for LGMD2E manufacturing, which will be used in any new LGMD2E trial, in order to use commercial material rather than using investigational material from NCH and later bridging over as they have done with the DMD program. This move shows a high confidence in the LGMD2E program, and may accelerate the other five LGMD programs.
A read-through to SRP-9001 in DMD
Doug as usual has set the expectations low. At RBC fireside chat, he confirmed the LGMD2E data will be released in June but indicated he doesn't know if the high dose will show a higher expression, and there is a need to see meaningful difference in expression to abandon the lower dose for the higher dose. This left us with the impression that it's OK to return to the lower dose 5e13 for this program going forward, as this will still impact patients. However, he follows this sentiment with, "excited about the high dose that is the same dosing as the DMD and will be interesting read through!!!" followed by "Higher expression is better for the longer run durability" because this is a once and done therapy. One wonders, why would Doug continue to point attention to the dosing equivalence across these programs and the read-through (LGMD high dose of 2e14 vg/kg = DMD microdystrophin dose) if there was a persistent safety issue with the high dose in LGMD patients, which would only put a damper of doubt or new line of questioning on the prized DMD program. This leads to the obvious implication of LGMD2E high dose safety profile being acceptable. But we will just have to wait and see.
LGMD has a lot of similarity with SRP-9001 micro dystrophin in DMD, the same capsid rh74 and the same promoter MHCK7, so there is a lot of read through in both directions between DMD & LGMD, and in DMD Sarepta has a good view of safety and how it should look.
Given this, positive LGMD2E data would validate SRPT's gene therapy platform. And this time it is all about safety since we already know SRP-9001 expression is strong. If SRPT & LRK learned how to manage the safety in these older & higher weight kids, this will read through to older DMD kids in SRP-9001 future studies as well. On the efficacy side, we will be looking for a higher protein expression in the high-dose cohort 2e14 than the in the lower dose 5e13. This could give further confidence in SRPT's dose modeling efforts from animal studies and help to de-risk and accelerate future LGMD programs by establishing greater confidence in high initial doses.
LGMD2E Low Dose 5e13 Data
On February 27th, 2019 SRPT released the two-month post-treatment muscle biopsies, and clinical trial participants showed a mean of 51% beta-sarcoglycan (beta-SG) positive fibers, as measured by immunohistochemistry (IHC), substantially exceeding the pre-defined 20% measure for success. The mean fiber intensity, as measured by IHC, was 47% compared to normal control. All participants showed a striking decrease in serum creatine kinase (CK) levels from pre-treatment baseline measure to last measure, with a mean CK reduction of 90% from baseline. CK is an enzyme biomarker strongly associated with muscle damage.
On the safety side, two participants had elevated liver enzymes, one of which was designated a serious adverse event (SAE), as the patient had associated transient increase in bilirubin. Both events occurred when the participants were tapered off oral steroids and, in both instances, elevated liver enzymes returned to baseline and symptoms resolved quickly following supplemental steroid treatment. There were no other clinically significant laboratory findings and no decreases in platelet counts were observed. A contributing factor to the AEs observed may have been the difference in steroid protocol between LGMD patients and DMD patients. Dr. Jerry Mendell previously demonstrated the direct impact of prophylactic steroid regimen on limiting liver enzyme reactions with his work for Avexis in SMA patients. DMD patients entered the SRP-9001 study on steady dose of steroids as this is standard of care in DMD treatment. Therefore when put on more intensive steroid dosing per Mendell's protocol to coincide with gene therapy dose (1 day prior and for 30 days after) to protect the liver, they are tapered down to baseline steroid levels after 30 days, and the baseline steroid level may provide some residual protection for the liver from AAV. However, LGMD patients do not benefit from steroids and are therefore not on chronic steroid dosing entering the trial, so the same 30-day tapering protocol brings them down to zero. Dr. Rodino-Klapac indicated this may have been too soon to completely eliminate steroids and thus intended to delay the tapering for the high dose cohort to keep some residual steroid level and ensure that liver enzymes will not surge. In looking across many companies and many programs, the critical period for potential liver enzyme reactions in response to gene therapy dosing seems to be about a 6-week window following the dose. If steroid tapering is delayed, this may more closely mimic the "residual" baseline steroid level in DMD patients through that critical time period and prevent the AEs or SAEs from occurring, even with a higher dose, just as these did not occur for SRP-9001. If it is revealed that heavier patients need to be at steroid levels *above the typical DMD baseline level, this can give some clues about how steroid tapering protocol might need to be adjusted for dosing SRP-9001 in older DMD patients to avoid risks.
Let us sum it up:

And the data breakout per patient.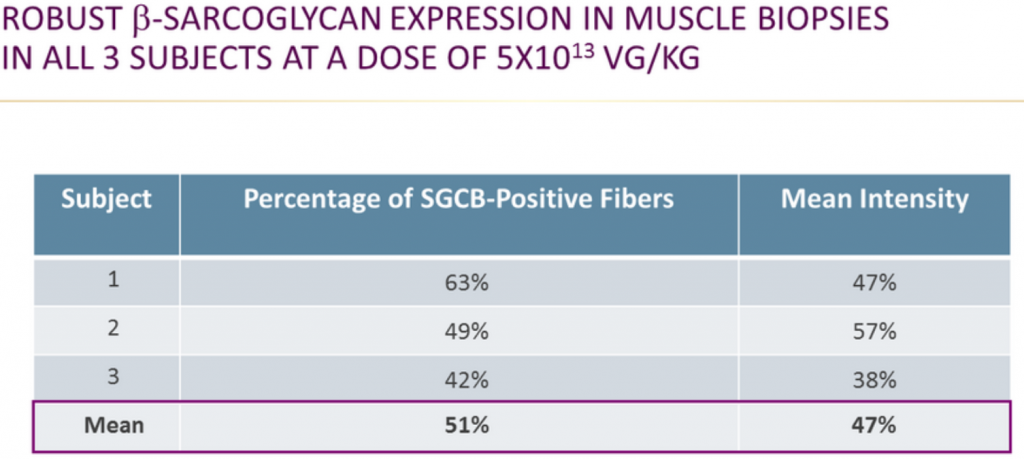 LGMD2E High Dose 2e14 Data Expectations
The LGMD2E Ph2 high dose results will define the recommended dose, and it will not only inform the development path for the 2E program but should also inform the dose selection and accelerate the development pathway for all other sarcoglycan programs.
The street is expecting SRPT to report the mean IHC fiber intensity, mean IHC expression and mean Western Blot expression, as it did for the low dose. As a longtime follower of the SRPT story, I expect a higher expression in all measures than in the low dose cohort, and in my opinion the b-SG expression will be close to levels seen in the microdystrophin gene therapy study SRP-9001 in DMD patients dosed with 2E14 vg/kg, as SRPT is using the same dose, the same promoter and same AAV serotype (AAVrh74.MHCK7.SGCB) which should have the same tropism for the target tissue. Higher expression will give us confidence that high levels of expression can also be achieved in other LGMD programs SRPT is working on.
Moreover, safety and tolerability profile is very important to me, as the high dose has been used in older and higher-weight patients (30kg to 40kg) with higher viral load. I will be looking for the steroid regimen that Dr. Louise Rodino-Klapac used in this cohort and whether the change in tapering protocol has eliminated the SAEs observed in the low dose cohort. Clean or at least manageable safety will be a very important read for gene therapy in older DMD patients and help shed light on whether they can use the 2E14 dose with the SRP-9001 program in those patients as well.
Disclosure: Author is Long SRPT