For a very brief period of time, Peregrine Pharmaceuticals (NASDAQ: PPHM) had become the phoenix that rose from the ashes. Peregrine recently posted overall survival(OS) data from their randomized Phase II trial in second-line non-small cell lung cancer that excited many. It talked up being approached by over a dozen big pharma companies to partner with them. Even during the Q4 2012 earnings call on July 16th, Peregrine hyped the potential for accelerated approval. However, with Peregrine's news release on September 24th, we now know this was all for nothing.
Major Discrepancies Revealed
On September 24th, Peregrine informed their shareholders the following:
Peregrine Pharmaceuticals announced today that during the course of preparing for an end-of-phase II meeting with regulatory authorities and following recent data announcements from its randomized, double-blind placebo-controlled Phase II trial of bavituximab in second-line non-small cell lung cancer, it discovered major discrepancies between some patient sample test results and patient treatment code assignments. Due to the double-blind nature of the trial, Peregrine was not permitted to have access to either patient group assignments or related product coding information. As part of the trial's execution, Peregrine contracted with independent third-party contractors to execute treatment group assignments and oversee clinical trial material coding and distribution according to established procedures. A subsequent review of information has determined that the source of these discrepancies appear to have been associated with the independent third-party contracted to code and distribute investigational drug product...Peregrine intends to communicate further as soon as it is able to determine the impact of this issue. In the meantime, investors should not rely on clinical data that the company disclosed on or before September 7, 2012 from its Phase II bavituximab trial in patients with second-line non-small cell lung cancer or any presentations or other documents related to this Phase II trial.
With this admission of gross misconduct in their trial, Peregrine has come to the realization their data are materially different than what was presented on September 7th. Investors can put no faith in the results that showed a "doubling in overall survival". The company's lack of conference call to explain the problem leads us to believe that the errors are so substantial that the whole trial is likely invalidated and the results do not cast Bavituximab in a good light. Peregrine has done what they tend to best: disappoint shareholders. Based on the company's comments, we believe that when Peregrine finally reveals the data, there will be no overall survival advantage.
Additionally, we believe Peregrine's attempt to fault their third-party vendor this late should be viewed very skeptically for several reasons. This study has been unblinded for more than several months. How else was the company able to make such statements about "survival trends"? In our opinion, if there did exist such problems, they should have been very transparent to anyone familiar with biotech development.
Peregrine's hopes of moving into a Phase III are likely dashed after this latest fiasco. With no discernible OS advantage and a misconducted trial, it's highly unlikely they will move this into Phase III. The FDA will most likely recommend the carry out another trial before moving forward.
Phase II data  never made sense
The Phase II data was littered with red flags. We noted these in our forums for subscribers after the data was posted. The fact that traders or investors believed their initial data on September 7th, still astounds us. There were very clear signs of problems with the study. First, Peregrine's OS data reported relied largely on imputed data, since the majority of the patients in the Bavituximab arms were censored. The data showed clear imbalances between race and ECOG status.
One of the most glaring red flags was the safety profile. Patients in the trial were either randomized to Docetaxel plus placebo, 1mg/kg Bavitumab plus Docetaxel, or 3mg/kg Bavitumab plus Docetaxel. One would expect each arm to have relatively similar side effects due to Docetaxel, plus whatever Bavituximab causes. However, this was not the case at all.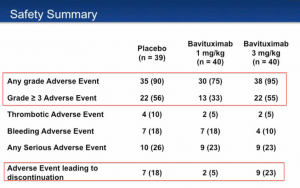 This data suggested that 1mg/kg of Bavituximab plus Docetaxel improved patients side effect profile over Docetaxel alone! Notably, 3mg/kg of Bavituximab plus Docetaxel looks almost identical to Docetaxel alone. Alas, Peregrine's admission of trial misconduct would explain why this data never made much sense. Additionally, Peregrine's assertion of Bavituximab as an immunotherapy also doesn't hold much water. The adverse event profile suggests no autoimmune side effects, which are a red flag to anyone who has been following the development of these type of agents.
Additionally, we noted the huge amount of censoring in the Bavituximab arms was another red flag. As Adam Feuerstein revealed today, the company wasn't entirely honest with investors. After obtaining a high-resolution OS curve, he clearly makes out the level of censoring in the Bavituximab arms: 49%. That's absurdly high and for the company to tout their median OS data without stating this was highly misleading. Good luck trying to find all the tick marks for censoring in the original webcast OS curve.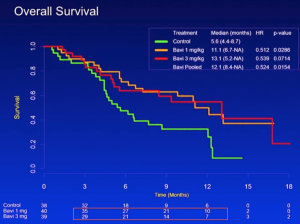 Investors are left hoping that OS data from the Phase II pancreatic study or first-line lung cancer study saves them. After the very disappointing results in the first-line study on ORR and PFS, we don't expect the OS data to offer much hope, even more so after this data debacle. The pancreatic trial is a complete dice-roll, since the company has never tested Bavituximab in pancreatic cancer patients. Both trials are small enough that reaching statistical significance seems really unlikely.
Readers should also check out Dr. Jack West's piece on Bavituximab and Sally Church's piece post-data.
Loan default
Just when investors in Peregrine thought things could not get any worse, they did. Yesterday in after hours, Peregrine released an 8K detailing that their recent $30M loan providers found them in default following their announcement of major discrepancies in their Phase 2 results and demanded repayment. Specifically,
On September 24, 2012, we received a written notice of default from Oxford Finance LLC, as collateral agent , on behalf of itself, Silicon Valley Bank, and MidCap Financial SBIC, LP, with respect to that certain loan and security agreement dated as of August 30, 2012, by and among Peregrine, its wholly owned subsidiary, Avid Bioservices, Inc., and the Lenders. Pursuant to the Notice of Default, all amounts due under the Loan Agreement were accelerated as a result of the above event, which was deemed a material adverse change under the Loan Agreement, and the Lenders demanded full payment of all obligations under the Loan Agreement, including the outstanding principal amount of $15 million and all accrued interest thereon, plus a final payment fee equal to 6.5% of the principal amount repaid. On September 25, 2012 Peregrine paid the Lenders all outstanding obligations and the Loan Agreement was terminated…. Based on these developments, we believe we will have sufficient capital to fund our operations into the fourth quarter of our fiscal year 2013 based on current projections…
This confirms what we said in the first section: their Phase II results are worthless. Consider that Peregrine paid their lenders back in full(plus fees) within 24 hours of default notice without any protest. If Peregrine had any data showing Bavituximab in a positive light, they would have made their case with the lenders. Note, Peregrine had to pay roughly $1.8M in fees and interest on this loan, which they only had for under 30 days!
Conclusion
Peregrine's data flub should not be taken lightly by investors. This is just another misstep from a company with a long history of misleading investors. Just a few months ago, management suggested they would consider applying for accelerated approval. During the most recent conference call, this was not mentioned at all. With cash well under $18M, Peregrine seems destined to run out of cash by April 2013. Bankruptcy is a real possibility.