Horizon Pharma continues cash burn and dilution
We last wrote on Horizon Pharma (NASDAQ: HZNP) following their FDA approval of RAYOS, but seems not much has changed. However, the stock has risen roughly 60% year to date with no apparent change in fundamentals. We view this company as overvalued given their products exorbitant price, no data to support superiority claims over cheap generics, high interest debt convertible and high expenses.
Products
In the US, Horizon markets 2 reformulated products that all have cheap generic options. First, we have DUEXIS, a formulation of 800 mg ibuprofen and 26.6 mg of famotidine, which is indicated for rheumatoid arthritis and osteoarthritis. This is equivalent to taking Advil or Motrin and Pepcid AC. Unsurprisingly, Horizon tested DUEXIS in Phase 3 trials comparing DUEXIS versus Ibuprofen alone, instead of Ibuprofen plus Pepcid or any other preventative ulcer medicine. This is why their labeling claims of benefit over placebo are mostly moot.
They also have competition from the likes of AstraZeneca (AZN)/ Pozen (POZN), who are marketing Vimovo, which is just formulation of naproxen and Nexium. Some pharmacy benefit managers even list Vimovo as a preferred alternative to DUEXIS. We suspect any pharmacist would fill a DUEXIS prescription with the generic equivalents. DUEXIS wholesale acquisition costs currently clocks in at $644 for 90 day supply; the generic components clock in at under $150 for a 90 day supply. It currently has non-preferred status on most formularies, which means patients can expect much higher copays. We won't even get into the dosing disadvantages of DUEXIS, which require 3 times a day dosing.
RAYOS(or LODOTRA in the EU) is simply a delayed-release tablet of prednisone. It has only been tested in rheumatoid arthritis patients to help relieve morning pain and stiffness of arthritis. This is already a dosing regimen doctors/patients are aware of and is nothing new. Similar to DUEXIS, RAYOS has non-preferred status on most formularies and typically requires prior authorizations. Clocking in at over $800 for a 30 day supply of RAYOS, we understand why most don't cover it with the average wholesale price for generic immediate-release prednisone ranges from $0.06 to $0.20 per tablet.
Sales growing, but at a huge expense
For the six months ending June 30th 2013, gross were $28.335 and $21,425, respectively, compared to $7,516 and $6,364 in gross and net sales, respectively, during the six months ended June 30, 2012. These are reasonably good sales numbers for a company selling reformulated products. However, once you look below the surface, that is where the problems emerge. In particular, DUEXIS had gross sales during the six months ended June 30, 2013 of $22.493 million, but required roughly $6.60 million in trade discounts/allowances and co-pay assistance costs, bringing net sales to only $15.89 million. However, they had operating expenses of over $48 million during that same period. Horizon is not on a path to profitability.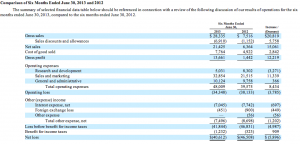 Sub-prime loan
In February 2012, Horizon took out a $60 million loan that comes with 17% annual interest to repay a previous loan. To sweeten the deal even more for the bankers, they were given 3.3M warrants at an exercise price of $0.01. Notably, the loan had net revenue covenantsthat they were required to meet. When the company was unable to meet the covenants of their original loan, they asked for them to be modified. On September 7, 2012, Horizon and their lenders entered into an amendment that modified net revenue and liquidity requirements. Essentially, Horizon knew they couldn't meet them and needed to have them changed otherwise they would have defaulted. Investors should note that this loan is secured by a lien covering substantially all of their US and EU assets. Their lenders have also begun requiring Horizon to prepay the maximum $4.0 million of outstanding principal amounts for the quarter beginning on April 1st and expect to prepay similar amounts for subsequent quarters as well. At June 30, 2013, the outstanding balance on the Senior Secured Loan was $59.42 million.
The company did meet the modified trailing twelve month (TTM) net revenue covenants of its Senior Secured Loan as of the quarter ended June 30, 2013, however, these goals keep rising. TTM Revenue will include all net revenue (net of promotions, coupons and other similar programs). Failure to meet them seems like a future possibility given the future requirements.

Net revenue for the past 4 quarters are as follows: $6.52M, $6.75M, $9.17M and $12.25M. TTM over this period comes to roughly $34.69 million and about $1.37 million in deferred revenue from DUEXIS shipments during the third and fourth quarter of 2012. Hence, they should meet the 9/30/13 requirement of $40 million in TTM revenue by hitting net sales of $11.8 million. In our opinion, TTM of $55 million and $70 million requirements will be more difficult to meet.
Dilution is their only solution
Since from June 30th 2012 to June 30th 2013, their number of outstanding shares have almost doubled with over 64 million. Even worse, the number of outstanding warrants more than doubled in that time period, from over 7 million to a tad over 17 million outstanding. The company still has an active at-the-market offering agreement with Cowen, which as of August 6, 2013, Cowen had sold a cumulative total of 2.45 million shares for gross proceeds of $6.24 million. There is another $21.15 million in common stock available for future issuance under the ATM sales agreement. The Company believes that it has sufficient liquidity into the third quarter of 2014.
Conclusion
Their current cash sits around $69M (as of 6/30/13), debt of $60M and a cash burn of roughly ~$17M per quarter. With shares hovering close to $4, it has a marketcap exceeding $300M when you include the warrants. We suspect their cash burn and future dilution will continue. Their future ability to meet revenue requirements should concern investors more than it seems too.
Disclosure: Author owns November $4 and $5 puts.