Sarepta Therapeutics (SRPT) is attempting to build the most meaningful precision genetic medicine company in the world, and has laid out its strategy to investors of exactly how it plans to get there. It starts with Duchenne Muscular Dystrophy (DMD) and the goal of dramatically changing patients' lives. The company may have just done that.
Sarepta announced positive preliminary results for its micro-dystrophin gene-therapy at its R&D day June 19, 2018. Dr. Jerry Mendell presented the results from the first three kids dosed in the Phase 1/2a micro-dystrophin trial to treat patients with DMD. Biopsies performed 90 days post-treatment showed robust micro-dystrophin expression in muscle measured by all methods and observed in all three patients.
The three patients showed broad expression of transduced micro-dystrophin. Mean gene expression, as measured by percentage of micro-dystrophin positive fibers was 76.2% and the mean intensity of the fibers was 74.5% compared to normal control. Biopsies showed robust levels of micro-dystrophin as measured by Western Blot (WB), with a mean of 38.2% compared to normal utilizing Sarepta's method, or 53.7% compared to normal pursuant to Nationwide Children's quantification method. The market expectation was 5% to 10% micro-dystrophin expression via Western Blot.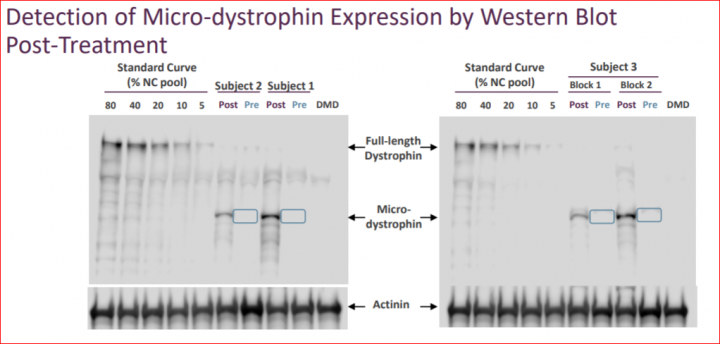 The ability of the vector AAVrh74 used by Dr. Mendell and Dr. Louise Rodino-Klapac to induce high levels of protein expression in muscle cells is a huge step toward what the DMD community hopes can lead to a future cure. Sarepta is so confident in its vector that it recently has entered into an exclusive partnership with Myonexus Therapeutics and expanded into another area of muscular dystrophy known as Limb Girdle Muscular Dystrophy (LGMD). If these programs continue to be successful, Sarepta may target additional neuromuscular diseases.
Is the Market Overlooking Dramatic CK Reduction?
One point the market may be overlooking is that Sarepta announced the R&D Day date before seeing Western Blot results from the first biopsy! The evidence behind this claim is that the R&D day was first announced on May 3, 2018 during the Q1 earnings call. We know the second patient's biopsy was not extracted yet as the patient was biopsied at 90 days post-dosing. That schedule would take us to May 15th as the date of biopsy for patient 2. We can tell from the slide showing the Western Blot results for first two patients as they were done together on the same gel. Consequently, Western Blot results were not known for the first two patients at the time of Q1 earnings call when R&D Day was announced. The third patient is shown on a separate gel and analyzed at a later date. This coincides with the dosing schedule and completed only a few days before the R&D day.
If SRPT management team had not seen the biopsy results and dystrophin levels yet, what explains their initial excitement and bold move to set up the R&D Day? It could be the dramatic drop in creatine kinase (CK) levels observed in all patients, a measure taken via blood test and observed relatively soon after dosing. The high percentage reduction in the CK1 levels made Dr. Mendell extremely confident and excited to share the study results. This likely pushed Sarepta CEO Doug Ingram to take the lead and announce the R&D day with confidence that the biopsy results will be more than enough to impact the disease. The magnitude of this drop in CK is dramatically higher than anyone has seen in the history of DMD.
CK is a marker of muscle damage and what is used to diagnose DMD. In order to qualify for the study, boys had to have CK levels greater than 1000UL (and many of them have far greater than 10,000!). SRPT will have to discuss the use of biomarkers with the FDA during an upcoming meeting.
How Fast Can Sarepta Bring Gene Therapy to Market?
The big question for expediting access to patients in the U.S. for Sarepta and the FDA is:
"Can SRPT get the FDA acceptance for micro-dystrophin as an acceptable surrogate endpoint and/or can SRPT use the CK levels as a biomarker?"
These points should be discussed with the FDA. CK is the way the kids get diagnosed, it's the best marker of muscle damage, and it should be used as a validated endpoint, but they have to get the agencies position. It's good to have such a compelling data like the CK levels reduction in hand to show to the FDA rather than only having a theoretical discussion. During the meeting they will discuss the requirements for the trial design and the FDA will need to decide the surrogate markers and endpoints that will allow full approval.
We already know that truncated Dystrophin (shortened dystrophin via exon skipping) was used as the biomarker for AA for Eteplirsen. So why would micro-dystrophin not be approved by the FDA as a biomarker? The most skeptical of FDA officials said during the AdCom, "If the drug made 10% of normal we wouldn't even be here right now" – I.e. we wouldn't even hold an AdCom to decide the approval question.  So how about 4 times that amount with micro-dystrophin?  Will these officials keep their word to the DMD patient community?
Our expectation are getting the micro-dystrophin gene-therapy full approved by late 2019 – early 2020.
We learned from Eteplirsen that truncated dystrophin is functional, but we don't know yet if the micro-dystrophin is functional. But in light of the data already presented at the R&D day, it is hard to say micro-dystrophin is not functional; you see a drop in CK level which is very clear and remarkable, as well as demonstration of the DAPC (Dystrophin-Associated Protein Complex) being formed, you see alpha and beta-Sarcoglycan, two important components of the dystrophin-associated complex are completely restored, which is critical for function. Added to that is the reciprocal stair climbing by patients after dosing which is not something seen with the natural history of the disease at the ages of these patients.
Link to the video shared by Dr. Mendell at the PPMD 2018 conference showing the treated kid only 2 days post treatment and then 2 months post treatment with tremendous improvement.
What are the Next Steps for Sarepta?
SRPT has to put the data together within 60 to 90 days to meet and share with the FDA. Obviously, the FDA has the data already, but they have to put it all in a briefing package and establish the questions they want to discuss with the FDA team during the meeting. The FDA may allow them to move ahead with the current trial protocol, and I think the FDA will help the kids get access to the treatment. From the data presented at the R&D day I think approval is not the question. In my opinion, the more important question will be the launch and how many patients can get access to the drug with relative ease, and which data in particular will help with getting payers on board with distributing a broad set of patients.
First to Market, The Competition and Manufacturing Scale Up
Sarepta already has a large lead on the competition as it's exon-skipping drug (Exondys51) is on the market and selling well. The company may have the advantage of being first to market in gene therapy as well – with no exclusivity issues between Pfizer and Solid Biosciences. The compounds are not the same. The promoters and gene constructs are different, meaning potentially all three drugs could make it to market. But in Sarepta's case, it has already built great relationships with the DMD community and DMD physicians. Even in the case of another approval for a behemoth like Pfizer, it doesn't give Pfizer any advantage in this rare disease niche, where 500 sales reps and massive commercial teams are not needed nor helpful.
There are less than 200 doctors who treat DMD, so size is not going to help you with this market. What would help is from a manufacturing scale perspective. Pfizer is building a facility right now, but currently there is no single existing site in the gene therapy manufacturing world with the capability to supply the entire DMD market. The amount of money spent will not take you as far as it normally could. The biggest challenge in speed to market will be the manufacturing scale up. That's why it was a great decision that Sarepta chose to partner with Brammer Bio. Brammer is ready and already under way in terms of construction of a gene manufacturing facility. Sarepta will have dedicated space with them and Brammer has extensive experience in supplying gene therapy manufacturing. So together, they both will be aggressive in scaling up to be ready to supply patients that will need the therapy.
Sarepta will have the advantage of knowing the DMD community and families from their previous drug approval and marketing of Exondys-51. Further, Sarepta has an advantage with the vector they are using, AAVrh74 which originated from NHP (Monkeys) so not many patients have been exposed to that vector and they are seeing a very low rate of pre-existing antibody at less than 15%. Meanwhile, AAV9 (used by Solid and Pfizer) is a humanized vector and has shown pre-existing antibody between 40% to 60%. Those with pre-existing antibodies above a certain titer simply cannot get dosed with AAV9 because it will not work to deliver the gene. Instead, the immune system will attack the AAV first before it gets to the cells, and such patients would need to move to AAVrh74 capsid that was chosen by Dr. Mendell and Dr. Rodino-Klapac.
Sarepta also has a specific promoter that is designed to deliver to the muscle and the heart which are the most critical locations that dystrophin is needed to combat this disease in DMD patients. Sarepta will start working during the next couple months on approaches to mitigate the pre-existing antibody issue which also ties into the potential for redosing patients, which may become an issue many years down the road and said they want to be prepared for that.  Dr. Mendel and Dr. Rodino-Klapac are working hard these days to address the issue, and they seem best positioned to make a difference through innovation.
How Would a Gene-Therapy Approval Affect the Exon-Skipping Drugs?
The first question the bears will ask is if the gene therapy will cannibalize the market for Eteplirsen, Golo and Casi? But as Ingram mentioned, Sarepta right now is looking at a combination approach. Dosing a patient with exon skipping drug prior to treating with gene therapy could help with stability of the muscle cells which can make the GT more effective, and they will also look in general at the combination approach, and if that will help for durability. You can get a much broader DMD population treated with gene therapy much sooner which has a larger revenue potential, but in the long run, the combination approach could be the most effective approach.
What About Older or Non-Ambulatory Patients?
With the older and non-ambulatory patients who are already in wheelchairs, many of them even began the wheelchair use before absolutely necessary in order to protect against the common "DMD falls" which are sudden and unexpected collapses that occur periodically and carry a high risk of bone fracture. Many DMD families told me that transitioning to the wheelchair was in part to protect against that and being in the wheelchair helped them to be mobile and without the fear of falling. But what is really meaningful for them now, is the ability to use their upper limbs and fingers and not to lose that ability. They want to retain the ability to feed themselves and most important according to these patients is continuing to be in control of the power wheelchair as well as using their cellphones and computers to keep contact with their friends, all aspects of a meaningful quality of life for a young person.
Is there a plan for Sarepta to move gene therapy into older boys (ambulant or non-ambulant)? From what we learned from Dr. Mendell's presentation, Sarepta is trying to create a homogenous population for regulatory purposes and to insure safety. Sarepta wants to first demonstrate the profile of this therapy in the younger and more homogeneous trial population so they have a clear picture of risk/benefit and then as you transition into harder-to-treat populations, you don't risk derailing the entire program.  This happened with Solid as they began dosing older patients first and ran into significant safety problems that caused the halting of its entire program.
 What is the IP Situation Regarding MicroD Gene Therapy?
There are so many competing claims right now, it will take a while to take shape by 2020, so the main focus right now is getting the drug to the market and then deal with the IP if needed, the same way they dealt with BioMarin regarding the Exon skipping IP. We have to keep in mind that Dr. Mendell has been adamant that NCH owns the IP on rh74 vector. Yes, there will be many competing claims but if Mendel has filled claims on rh74 that could really simplify the picture.
 How Gene-Therapy Changes Sarepta's Valuation
To understand the market opportunity for Sarepta with a DMD Gene Therapy (GT) treatment, look no further than recent market activity. Novartis recently acquired Avexis (AVXS), a company working on a GT treatment for Spinal Muscular Atrophy, specifically SMA1. AVXS was purchased for $8.7B and has only the single GT treatment with any significant clinical progress. The purchase of AVXS, provides a market-based assessment on the potential value of an inclusive DMD GT treatment. The Avexis story shows striking similarities to Sarepta's gene- therapy program, perhaps most notably the lead researcher Dr. Jerry Mendell is behind both programs.
SMA1 affects about 240 U.S. newborns each year.  SMA1 is so severe, that most babies don't live past 2 years old, so there is a limited number of existing patients. While DMD affects about 500 US newborns each year and by some measures there are about 10,000 to 12,000 existing patients still living in the U.S. The EU is roughly 30% larger in all these numbers.
AVXS is working on a SMA2 GT treatment, but it is still very early in the clinic. So, using AVXS as the yardstick, one could reasonably value the SPRT DMD GT treatment at twice the value of AVXS. One would have to overlook the fact that the AVXS program is about 12 months ahead in their SMA program from where SRPT currently is today.  A valuation of 15 billion would not be overly excessive for this DMD GT treatment, provided the strong early results continue over the next year.
Beyond DMD, Sarepta has the next GT program, the Limb Girdle Muscular Dystrophy (LGMD), program which is about 9 months behind the DMD GT program. LGMD is very similar to DMD in that the target would be muscles as well. The vector and promoter are the exact same, so one could infer if it works for DMD it could very well for LGMD as well.  Dr. Mendell's team headed by Louise Rodino-Klapac is also working on LGMD, so the synergistic learnings from DMD GT will be applied to LGMD. LGMD has an estimated 7600 existing patients in the US and approximately 100 newborns each year. LGMD is a large unmet need with >7600 in the US and >11000 in EU population.
Dr. Rodino-Klapac is the pioneer and moving LGMD-2E directly to a systemic, IV delivery Phase 1/2a study, starting Q3 with results by early 1Q 2019. If those results are similar to what Sarepta's DMD GT program showed – the market might have to add another $4B – $5B to Sarepta's market cap.
 Valuation: Outperform, target price increased to $298
The Outperform on Sarepta is based on its dominance in the DMD space and its expansion into other areas of muscular dystrophy. We see revenue to continue expanding with Exondys-51 launch. Approvals for Golodirsen and Casimersen will add additional near-term revenue upside. The more potent next generation of exon-skipping (PPMO), will enhance the market opportunity and duration of commercial life cycle. We think the exon skipping PPMO could lead to a multi-billion dollar peak potential and would be used as a combo drug with the GTx or as a booster for the DMD patients before and after the gene-therapy treatment.
We see eventually SRPT moving into additional gene therapies in the near future using their expertise in the field. We have strong confidence in management especially with the hiring of industry veteran Dr. Gilmore O'Neill (from Biogen) as the CMO and Dr. Louise Rodino-Klapac (From NCH) as the head of the gene-therapy division. We see Sarepta continuing to expand its pipeline of 21 programs. We believe Sarepta has already positioned itself as a leader and one of the most significant players in the gene therapy space.
In addition, following the results of Sarepta's R&D day, we have put Sarepta high on our potential M&A list. We believe its leading position in DMD and pipeline make it a strong takeover candidate for a larger company looking to bolster its pipeline with a blockbuster candidate drug. We see Biogen, Pfizer and Vertex as potential acquirers. We view SRPT's CEO Doug Ingram as a "deal-maker" and his biggest deal could end up being an acquisition with a jaw dropping premium to the market price, as was seen with AVXS (70+% premium).
The valuation of $19.5B or $298 per share is calculated by $1B cash, $4B for Exon-Skipping franchise, $10B for DMD gene-therapy (potential approval by late 2019 – early 2020) and $4.5B for LGMD, that bring us to $19.5B valuation.
Sarepta's Near Term Catalysts
FDA's gene-therapy guidance: waiting for Scott Gottlieb's comments on approval pathways for gene-therapy, which should be coming in the next few weeks.
Golodirsen Ex-53: Sarepta on track to complete the rolling submission and file the NDA by the end of the year 2018, while expecting FDA approval by mid- 3Q 2019
Casimersen Ex-45: Type-C FDA meeting to discuss AA filling and follow the Golo fast pathway.
PPMO SRP-5051: Q4 safety data from dose escalation trial.
PPMO SRP-5053: Q3-Q4 Submit IND.
Micro-dystrophin study: to finish micro-D Cohort A, start cohort B and get approval/start Cohort C
CHMP re-examination: Q4, can the SAG overturn the CHMP opinion as they did with PBYI last week?
GALGT2: Q4, IND amendment. Dose-finding studies for systemic delivery supporting an intravenous trial are underway. Is GALGT2 going after BMD and others!
LGMD-2E: results early 1Q2019: success will add to SRPT the same market-cap as DMD micro-dystrophin!
SRPT will decide what other diseases will pursue beside DMD and LGMD. Sarepta should have the option to license other gene therapies that NCH is currently working on such as Batten disease and Merosin Deficient Muscular Dystrophy.
SRPT will decide what are the other PPMO strength and sign a partnering deal. Sarepta has indicated, they will begin working on other neuromuscular diseases such as Progeria and Pompe diseases, etc utilizing their PPMO technology.
Disclosure: Author is Long SRPT.