BELLUS Health (BLU.TO) (BLUSF) is a biopharmaceutical development company based in Quebec, Canada, its pipeline includes several partnered clinical-stage drug development programs, but the company's lead drug candidate is BLU-5937 which is a highly selective P2X3 antagonist for chronic cough and has the potential to be a best-in-class therapeutic for chronic cough patients who do not respond to current therapies.
I met Bellus' CEO Roberto Bellini at Bloom Burton conference in Toronto early May this year, and what particularly caught my attention, was the comparison to Merck's drug MK-7264 (gefapixant) that has been acquired in 2016 from Afferent Pharmaceuticals for an upfront payment of $500 million in cash, plus up to an additional $750 million associated with clinical development and commercial milestones.
So, this microcap Canadian company with market cap of ~$58M, have a drug candidate that has the potential to be a best-in-class for chronic cough, and its early clinical study shown a significant reduction in cough, but more important, has no effect on taste perception in two separate preclinical models. Moreover; have the potential to become a better drug than the one Merck paid $500M upfront! This info alone, triggered my trading sense and I started following the company to see if they will deliver on their promise and start the phase 1 clinical study within a few months from Bloom Burton presentation, which they did perfectly and on July 9th they initiated the BLU-5937 Phase 1 clinical study for the treatment of chronic cough.
My DD started with the financials side, the company has over $20.2 million in cash (as June 30th – Q2 report) and I found that they are mostly trading at the Canadian main exchange (TSX or Toronto Stock Exchange) while in the US they are listed at the OTC. This was the first caveat, but after checking the trading at the TSX was active and with volume through the past year, and in my opinion if the Phase 1 study show a promising results and advanced to Phase 2 study, most likely Bellus management will do some consolidation and try to up-list to the Nasdaq in the US, the same as TRIL did 3 years ago. I decided to keep the deep dive and see if Bellus can deliver on the clinical side as well, with a potential to become a multi-bagger trade!
Chronic cough
I was highly interested in the study for the fact of growing up in a house that was filled with a nonstop coughing, all year around by my mother, and the frequent visit to the doctor office trying to find another drug to stop the painful cough my mom had for so long. The same cough kept here away from many occasions and public events, just to avoid the frequent cough embarrassing noise. And during the years I learned that more than 10% of the US adult population had coughs lasting for more than 8 weeks. With chronic cough, it is people who have an unresolved cough after a year, which is usually related to an upper respiratory tract infection. It's an experience we have all had, a cough that takes a while to go away, but in this case, it just doesn't weaken or go away.
https://www.ncbi.nlm.nih.gov/books/NBK116698/ In the paper it was noted that cough is the most common complaint for which patients seek medical attention and is the second most common reason for a general medical examination, accounting for more than 26 million office visits annually.
I found also a great summary "Understanding Chronic Cough" (Link) gathered by Bellus after interviewing many clinician experts in the field who identified chronic cough as an area with high unmet medical need. Not only does chronic cough affect a large proportion of the population, about 10% of adults in most industrialized countries, but there is a large percentage of highly underserved patients (10-40%) that either don't respond to current therapies (refractory patients) or have unexplained chronic cough, a form that is not easily treatable. The experts also noted the lack of therapeutic innovation: the last FDA approved therapy was dextromethorphan, the active ingredient in cough syrup, approved almost 60 years ago! (Link)
Chronic Cough has a Big Impact on Quality of Life
Having met many patients with chronic cough, we have seen that cases can vary in severity. Mild chronic cough, often described as a "nagging" cough, can be thought of as a very annoying cough that persists for at least 8 weeks. Severe chronic cough can be very distressing for patients as it has numerous physical (sleep deprivation, chest pain, vomiting), social (difficulty having conversations) and psychosocial (anxiety, depression) repercussions. Duration of the cough can also vary: some patients have recurring short bouts (8-12 weeks at a time), while others have coughed for decades without end.
The current standard of care isn't addressing the problem, the first course of action for patients with chronic cough is to try to treat the cough's "trigger", or underlying cause: treat the asthma; treat the allergic rhinitis or; stop taking the drug provoking the cough. But for unexplained chronic cough patients, or refractory patients that don't respond to therapies for their underlying disease, there is no easy solution.
Treatment options for refractory/unexplained chronic cough are limited, patients are often prescribed pain medications that act in the brain to treat their symptoms. Opioid narcotics can be effective but have serious side effects and can become addictive. Certain physicians prescribe drugs used to treat nerve pain and damage on an off-label basis, however these are not approved for chronic cough and have limited efficacy that varies from patient to patient. Over-the-counter medications offer minimal relief.
Publications have estimated refractory/unexplained chronic cough patients to be 10-40% of the chronic cough patient population. Even at the most conservative level, this represents about 2.7M people in the United States, and when extrapolated to the major pharma markets, represents more than 6M patients.
Drug History and Clinical Pathway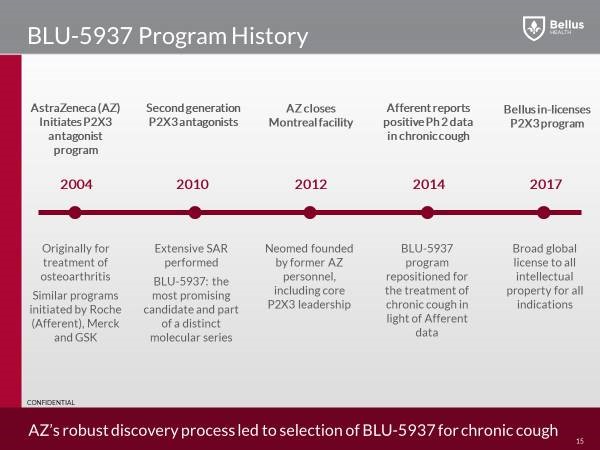 Several big pharma companies started drug discovery programs to find small molecule P2X3 antagonists during the 2000s. These drugs were intended to be used in pain indications including osteoarthritis. All of the big pharma P2X3 programs were stopped by the end of the 2000s.
The program at Roche was out-licensed to a new startup called Afferent Pharmaceuticals. The lead molecule at Afferent, AF-219, was eventually repositioned as a chronic cough drug in 2014. The data from this Phase 2 study showed a strong cough effect but also caused all the patients to have taste loss. A subsequent Phase 2 study in chronic cough patients in 2016, at lower doses, showed a strong cough effect but also an acceptable taste effect. Afferent was then acquired by Merck for up to $1.25 billion.
In the case of BLU-5937, AstraZeneca (AZN) had a P2X3 antagonist program at its Montreal research facility in the 2000s. The project, like all the other P2X3 antagonist programs at big pharma, was shutdown by the end of the 2000s. In 2012, as part of the closure of the Astra Zeneca research facility in Montreal, the P2X3 program and its lead drug candidate were transferred to a new company started by ex-Astra Zeneca employees called the Neomed Institute. The P2X3 project was re-initiated at Neomed in 2014 when the first Afferent chronic cough data released.
In February 2017, Bellus announced it has entered into a global licensing agreement for the development and commercialization of BLU-5937 (formerly NEO5937) a potent inhibitor of P2X3 antagonist for the treatment of chronic cough from the NEOMED Institute. This was a smart move that gave Bellus a head start, working on an already validated target, since Merck (MRK) have shown through multiple phase 2 studies, very strong efficacy in reducing cough frequency using a P2X3 antagonist.
So, Merck already did the work of validating P2X3 as a target for chronic cough. Unfortunately, this program comes with a problematic side effect, the drug alters the sense of taste, since gefapixant works on the same set of targets that contribute to the taste sensation. In the latest phase 2B study from Merck, 80% of patients experienced taste disturbance. That's really where Bellus comes in with BLU-5937, driving a differentiated product profile having just as good efficacy on the cough side, with a significant reduction or even, potentially, eliminating the taste side effect.
With a potentially superior profile, BLU-5937 could be the leader in this billion-dollar new class of drugs. Head to head animal studies between BLU-5937 and MK-7264 have shown BLU-5937 to be as effective in cough suppression without the taste loss side effect.
Bellus completed preclinical studies on BLU-5937, including 28-day toxicology studies, which demonstrated an excellent safety profile. The P2X3 antagonist drug candidate for chronic cough, has shown a significant reduction in cough and no taste disturbance in two separate preclinical models.
In the guinea pig cough model, BLU-5937 has shown comparable efficacy to the current leading P2X3 antagonist, Merck's MK-7264. In the rat taste model, BLU-5937 did not inhibit taste as Merck's drug did. The pre-clinical study results have been presented at the "10th London International Cough Symposium 2018" on June 27, 2018. In summary, animal studies demonstrated that BLU-5937 is a highly selective P2X3 antagonist exhibiting a potent anti-tussive effect without affecting taste perception. The preclinical toxicology studies also demonstrated an excellent safety profile for BLU-5937. (Link to the presentation)
As we all know, animal studies are only the first step in a long journey of drug approval process, the next step is the current Phase 1 study that already initiated, and first patient dosed on July 9, 2018 per the company press-release, while the results are expected in the fourth quarter of 2018.
The Same Drug Effect with Less Side-Effect
The main question is, what makes BLU-5937 different from MK-7264? Bellus' drug BLU-5937 and Merck's MK-7264 both inhibit P2X3 receptors involved in cough. Even though Merck's drug MK-7264 (gefapixant) demonstrated strong efficacy in Phase 2b study, of both the 20mg and 50mg doses, showing a reduction in awake cough frequency. In the 50mg dose in the Phase 2b study the reduction in awake cough frequency was 86% compared to baseline and 37% compared to placebo, validating the use of P2X3 antagonists to treat chronic cough. But due to its weak P2X3 receptor selectivity, MK-7264 a problematic side effect shows up, a taste loss. Around 80% of patients suffered either taste alteration or taste loss, and 40% of those characterized the side effect as extremely bothersome.
On the other side, Bellus' BLU-5937 a highly selective P2X3 inhibitor, should have minimal or even no taste loss side effects, and compared to MK-7264, BLU-5937 is a 10-fold more potent inhibitor of the human P2X3 receptor and 1000-fold more selective for human P2X2/3. That way, BLU-5937 inhibit only P2X3 and it could be more effective, but less disruptive to the taste that limits dosing of MK-7264.
In the taste buds you find both P2X3 and P2X2/3 receptors, BLU-5937 inhibiting only P2X3, so working on delivering the same efficacy while reducing significantly the taste lose side effect.
In this paper "A taste for ATP: neurotransmission in taste buds" (Link) the importance of an ATP signal in epithelial-to-neuronal signaling is nowhere more evident than in the taste system. The receptor cells of taste buds release ATP in response to appropriate stimulation by tastants and the released ATP then activates P2X2 and P2X3 receptors on the taste nerves. Genetic ablation of the relevant P2X receptors leaves an animal without the ability to taste any primary taste quality. Of interest is that release of ATP by taste receptor cells occurs in a non-vesicular fashion, apparently via gated membrane channels.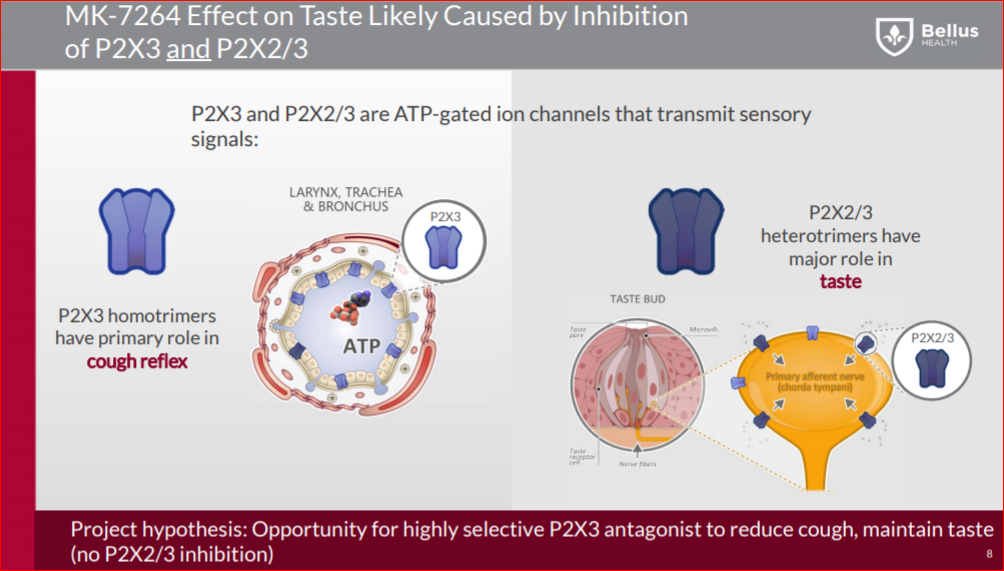 Gene knockout studies indicate that loss of both P2X3 and P2X2/3 channels leads to complete elimination of taste. If only one of the P2X2 or P2X3 genes is knocked out, then the taste affects are moderate. Bellus has proved in the preclinical study that BLU-5937 has comparable efficacy to MK-7264, even though antagonism is limited to the P2X3 channels. With P2X2/3 channels largely unaffected, there is a higher chance that BLU-5937 might demonstrate less effect on taste based on the gene knockout experiments. If this proves to be the case, Bellus may be able to use a higher dose to achieve greater efficacy than MRK's drug.
BLU-5937 Phase 1 study design
The main objectives of the Phase 1 clinical study are to assess the safety, tolerability (including taste perception) and pharmacokinetic profile of BLU-5937 in healthy subjects. This is a randomized, double-blind, placebo-controlled study of orally administered BLU-5937 in up to 90 healthy adult subjects.
The study will be divided in two parts SAD & MAD:
Part 1:
SAD – single-ascending dose study will be conducted in up to 60 healthy subjects, which will be randomized into up to 6 cohorts of 10 subjects (8 active drug and 2 placebo).
The dose regimen for the part-2, MAD study will be established based on the SAD study results
Part 2:
MAD – multiple-ascending dose study will be conducted in up to 30 healthy subjects, which will be randomized into up to 3 cohorts of 10 subjects (8 active drug and 2 placebo).
Each subject will receive daily oral administrations of BLU-5937 treatment for 7 consecutive days.
Results of the Phase 1 clinical study are expected in the fourth quarter of 2018. Since the first patient from cohort-1 already dosed on July 9th, and part-1 with the 60 subjects is very fast to conduct, only a single dose and to collect PK data after 10 days. So, I assume they will be ready to publish the top-line results late November to early December this year.
These results will help define BLU-5937's expected product profile, including the safety, tolerability (including taste perception) and dosing regimen for the Phase 2 proof-of-concept study that is expected to be initiated in 2019 in chronic cough patients. This will be a dose escalation study to assess the safety, tolerability and efficacy of BLU-5937.
 Competitive space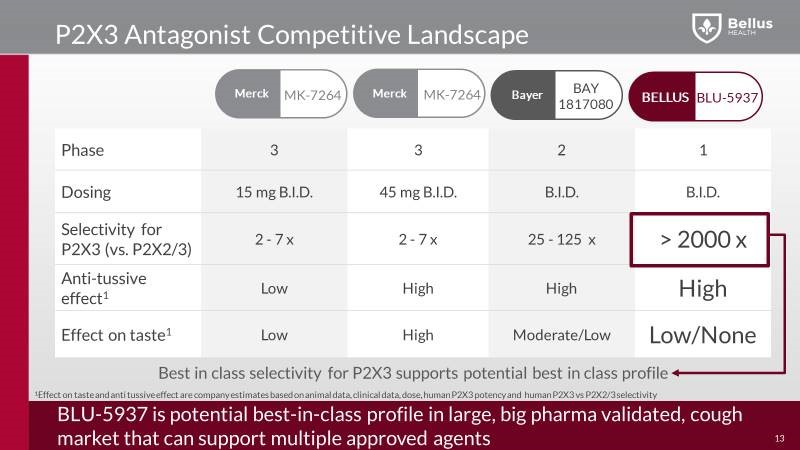 Beside MRK, also Bayer have their own P2X3 studies, already in Phase 2 study and they show a high selectivity for P2X3 with high anti-tussive effect as well, but they are keeping their study under the radar and did not presented any data from their study at the last conference which raised many eyebrows
In the phase 3 study MRK's scientists are trying to reduce the taste side effect by reducing the dose to 15mg, but the question is, how this low dose will reduce the efficacy side? At the same time, the chronic cough population recruited within the phase 3 trials is narrowed down from the general population, by excluding smokers and patients on ACE inhibitors, this will reduce the market opportunity well below the initial estimate of 10% of the US adult population. Actually the patient numbers will come down dramatically in the first indication, but looks like MRK will start in a narrow population first, and demonstrate a favorable benefit risk profile, before moving  into larger populations.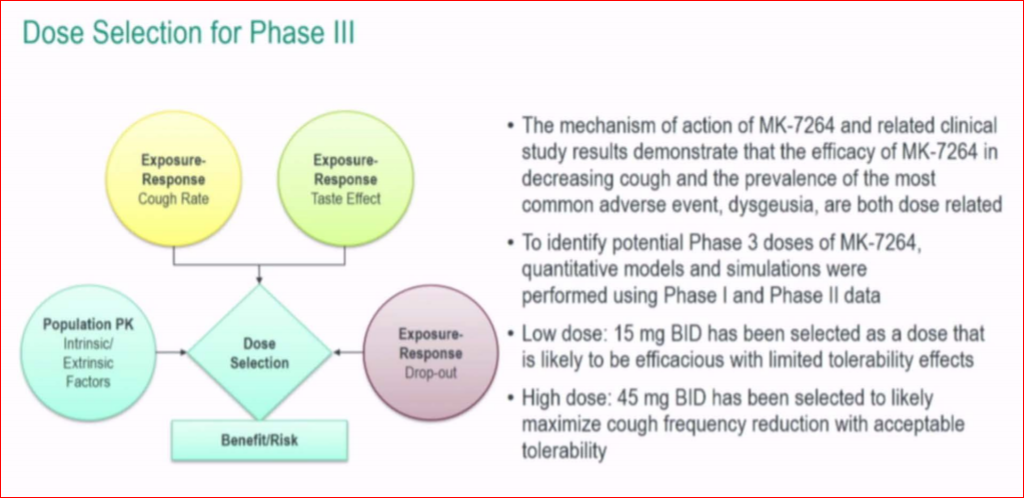 Technical analysis
BLUSF traded for over 10 months in a well-defined horizontal channel between $0.26 to $0.36, and a nice run to $0.4898 after breaking out this long-term horizontal channel's upper line.
After reaching the new 52-weeks high, a healthy technical correction started and formed a symmetrical triangle for over 3 months to break it out this week & run to the high of $0.48
Looking for the 52W high ($0.4898) breakout & start a new leg-up to the next target $0.60. followed by the long-term resistance line at $1.18.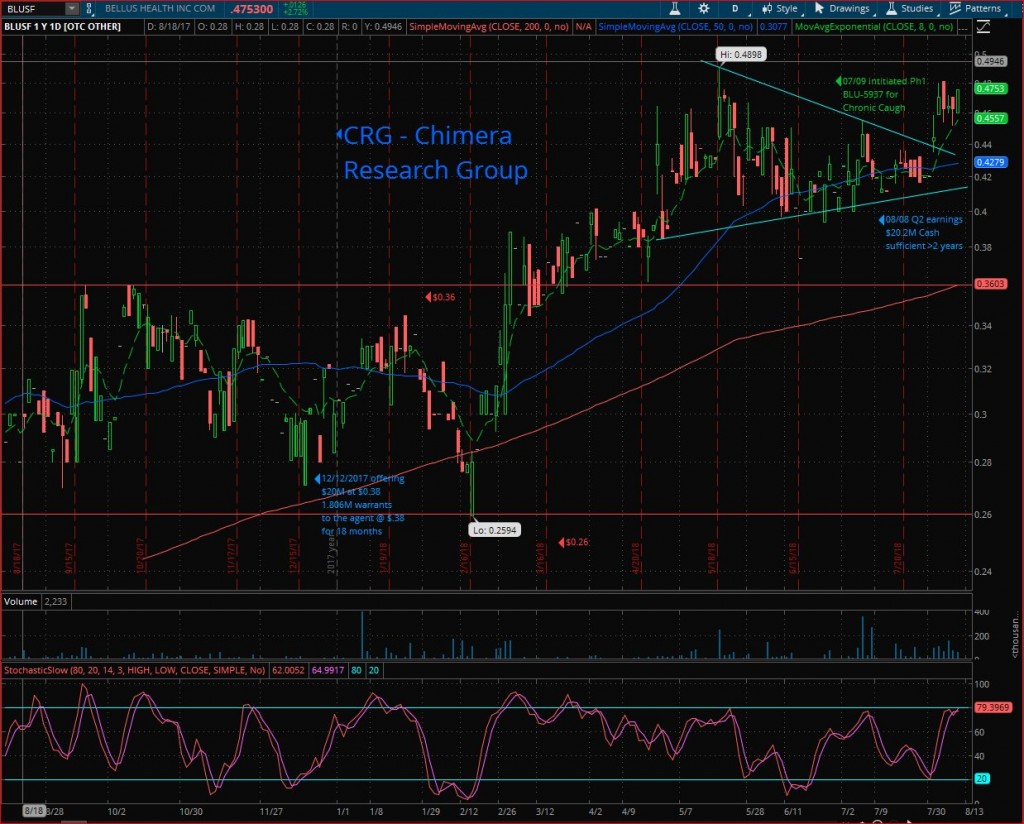 The Trade
A speculative trade, with high risk but high rewards, if Bellus succeed to show the same positive results we have seen in the preclinical studies, in the current phase 1 study as well, keeping the efficacy that MRK show in their Phase 2 study but reduced or eliminate the taste loss side effect, and advance to phase 2 study later this year, that will be a high mover for the share price. Despite the amazing run in the share price over the past 2 years, from $0.17 to the high of $0.49, with its current market cap of ~$57 million, I believe Bellus can become a "multi-bagger" trade potential to at least $1.00 to $2.00 per share if phase 1 results for BLU-5937 are positive and show minimal taste side effect, and to $5+ per share if phase 2 results (1H-20E) are positive.
 Risk
As any other biotech company, there is risk associated with clinical trials, and Bellus even have a higher risk as in case of a failed study, the company will drop to the cash level as their pipeline depend mostly on the cough drug development, and a caution is needed in this investment if any.
Disclosure: The author is LONG BLUSF