Pfizer (PFE) presented its first set of data (n=6) from the mini-dystrophin gene therapy for DMD (PF-06939926) at the PPMD conference on June 28th. Much speculations surrounded Pfizer's decision to report the dystrophin quantification using mass-spec. Sarepta (SRPT) has used WB-western blot since 2015 during the Eteplirsen FDA approval process. Sarepta has also used it in its micro-dystrophin and LGMD2E gene-therapy clinical trials as well. We find it rather curious Pfizer chose to omit this quantification method despite the fact that WB was listed as the primary method to quantify dystrophin in its study protocol (Link).
Pfizer's data failed to reach the very high bar set by Sarepta. The serious adverse events (SAEs) shadowed the rest of the data and was the primary focus of DMD families, scientists and investors. Two of the three patients in the high dose arm were hospitalized. One patient had to remain in the  Pediatric Intensive Care Unit (PICU) for 11 days with life threatening kidney complications. 
PFE reported other safety issues, including GI disorders, nausea (66.7%) and vomiting (66.7%) that is associated with anorexia, lethargy, and the acute kidney injury (16.7%). The second patient who experienced an SAE continued to vomit and required hospital admission for two days. These SAEs forced PFE to modify the study protocol which related to antiemetic use and fluid intake.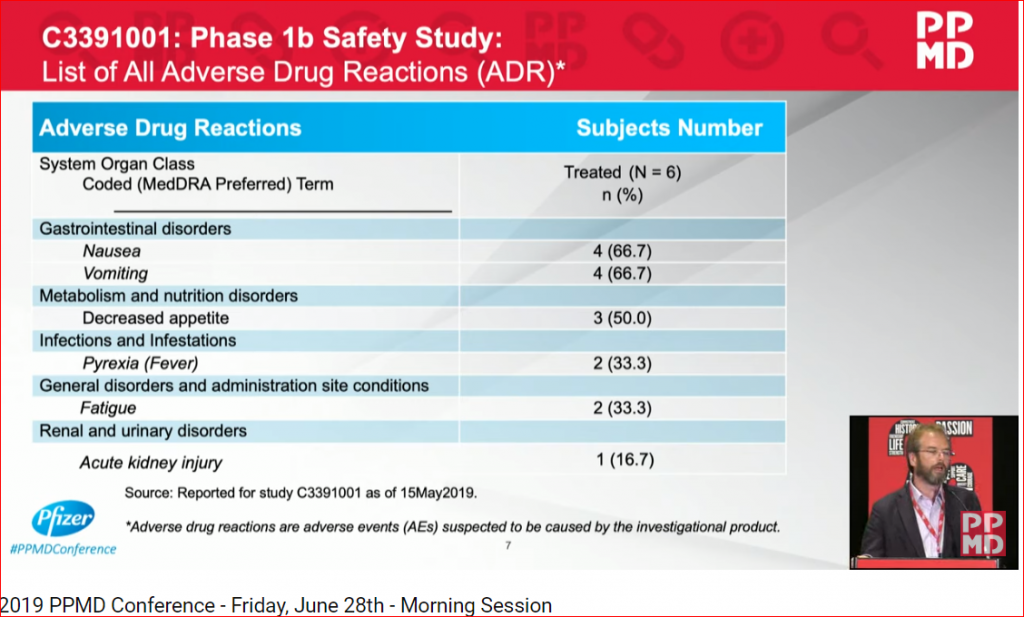 On the efficacy side, PFE chose to prevent direct comparison with SRPT WB data (apples to apples), and presented mass- spec data that showed 29.5% of normal expression on the high dose arm 3E14 vg/kg, and 23.6% for patients who received the low dose 1E14 vg/kg. PFE chose to present the mass-spec data despite the fact that it had the WB data in hands. This could mean PFE knew its expression data was inferior falling well short of SRPT's WB data.
Moreover; in the IHC quantification PFE was much lower than the data presented by SRPT. PFE preliminary results from open muscle biopsies of the biceps taken 2 months after dosing show detectable mini-dystrophin immunofluorescence signals with a mean of 38% positive fibers taken from participants who received low dose 1E14 vg/kg and a mean of 69% positive fibers taken from participants who received high dose 3E14 vg/kg. Compare to SRPT, which showed 81.2% positive fibers and intensity of 96%. PFE presenter Dr. Binks said Pfizer is planning to move forward with the guidance on the initiation of a randomized, placebo-controlled global Phase-3 study in the 1H-2020.
Anyone who watched the PPMD webcast, saw how well spoken SRPT's CEO, Doug Ingram, was. He was the ultimate star on the stage. He was confident showing he knows the science and explained in detail how safety has been a key differentiator in SRPT's DMD GT trial. To date, no SAEs have been reported after treating the first 4 patients for over a year. The same can be said of all the 24 patients in study 102 (12 GT and 12 placebo). Doug tried to deliver the important point, that it is a "one shot and done" with no option to re-dose (at least for now). Doug was direct with parents telling them if you enroll your child in a GT study, you should know that he can't get another GT drug due to immunity developed post gene therapy treatment. Doug took the lead with every question at the Q&A session over-shadowing both PFE and SLDB presenters.
What really amazed me was the lack of negative articles, reports and tweets about the harsh side effects from PFE's GT drug. If it was SRPT in the same spot as PFE, the whole feed would be full of attacks highlighting the low dystrophin expression despite the extreme high dose 3e14! Where are the whole team of hat-eaters?
Also, I'm surprised that despite the hospitalization of two patients the FDA did not put the study on hold. Would they hold SRPT's study if it had the same safety concerns? Did the big pharma company get special treatment or the FDA is too open for some SAEs in early stage? What world we are living in, where the ethics committee agrees to continue dosing kids with PFE's high dose despite the life threatening acute kidney injury. 
Sarepta's investors felt on their skin all the haters who tried so hard to debate SRPT data nonstop, including waiving the LGMD2E program potential only for the AE that was resolved quickly. Nobody pointed the finger to PFE and tried to show how scary their data really is. It's unethical to let more kids go through this risky gene therapy using AAV9 by PFE again. More kids will get seriously hurt. Advocates and families should have been demanding this information long ago.
Some other important points that the street hasn't  digested yet.
Due to the SAEs noted above, the street should be all over PFE's high dose. What titering method do they use? At the conference, they said that it is ddPCR. If this is true, their dose is 4.5x higher than SRPT's dose. PFE dose is massive and likely the reason they are seeing SAEs. PFE did confirm all of the SAEs were in the high dose group but it is not getting the attention it deserves. People should be all over this and people should realize the impact it will have on COGs if they do get to the market. What is their full to empty capsid ratio? What is their total viral load? People should be re-analyzing the Jim Wilson paper. (LINK)

Pfizer omitted baseline characteristics,  including age, weight, mutation, and CK levels. How did they get away with not showing that?

The company also failed to include vector genome copy numbers (this goes for SLDB too, more information on the patient with SAE in the high dose group.

What about PATIENT LEVEL EXPRESSION DATA? We do not know if there was consistent expression between the patients. Is one patient driving the result? There was almost no dose response. No one is talking about that. But let's think about this for a moment, since there is almost no dose response, why not go to 1E14. It's an easy decision. The fact that they are not doing it could mean one patient is driving the result at 1E14. They don't get expression at the low dose. Their therapeutic index is extremely narrow.  People should be screaming about patient level data. They are not showing it for a reason, and it is damning to their program.

No qualitative comments on WB? Even if PFE does not want to share the data, the question is, was it higher or lower than MS? Was there a correlation between WB and MS?

PFE claims that they had 69% positive fibers. What was the signal intensity? Based on the MS results it looks like it was relatively low.  Slide 24 in the PFE presentation seems to confirm this.

PFE showed functional data from 2 patients but didn't tell us how much expression those patients had. Isn't that vital to the analysis?
These questions need to be answered. Let's hope the DMD community can get the answers before PFE tries to start dosing even one more child.
Disclosure: Author is long SRPT.