Perimeter Medical Imaging AI (PINK.v, PYNKF) is a Toronto-based company with U.S. headquarters in Dallas, Texas that is driven to transform cancer surgery with ultra-high-resolution, real-time, advanced imaging tools. Giving physicians the ability to visualize microscopic tissue structures "real time" in the operating room has the potential to result in better long-term outcomes for patients and lower costs to the healthcare system. The company continues to make progress and so far in 2021 they have executed in all ways we could have hoped for. For background, see our prior report here: https://www.chimeraresearchgroup.com/2020/10/perimeter-otis-optical-coherence-tomography-and-the-future-of-ai-in-surgical-breast-cancer-treatment/
In this new report, we will provide a comprehensive update on the exciting progress Perimeter has made and why we believe this should lead to continued increase in the share price.
Update 1:  FDA 510(k) Clearance for Perimeter S-Series OCT imaging system
In early March, Perimeter announced their receipt of FDA 510(k) clearance for commercialization of its S-Series Optical Coherence Tomography (OCT) Imaging System (previously known as OTIS 2.1). As a reminder, Perimeter had received prior approval for the OTIS platform and was planning to begin a commercialization effort in 2021. With years of feedback from KOLs and end users in the research setting, Perimeter tweaked the system with improvements that will better enable a commercial rollout to their target marketplace. The improvements with Perimeter S-Series OCT include an upgrade to the software's graphical user interface, industrial design enhancements, and improvements in image processing speed. The user interface is now a better fit for what surgeons prefer in the intraoperative setting, and the design enhancements to the physical equipment better enable a setup inside the operating room, which is exactly the primary benefit and purpose of the S-Series OCT system and will drive its uptake.
As a reminder, breast cancer patients receiving breast conservation surgery (BCS), also known as lumpectomy, are at 2-fold higher risk of recurrence if "positive margin" is found within their excised tumor tissue. To avoid this risk, surgeons routinely bring patients back for a re-excision if positive margin is found in their excised tissue. A second surgery occurs in 20-25% of all BCS since the standard of care for examining the excised tissue utilizes pathology lab imaging with a 2 to7-day turnaround. The use of S-Series OCT in the intraoperative setting is designed to cut down the rate of re-excision by informing the surgeon's decision in real-time with imaging of the tissue margin down to 2mm depth where the margin must be negative. When the surgeon identifies positive margins in the OCT imaging, the doctor can resume the ongoing surgery and remove more tissue if needed, until margin is negative, to avoid the need for a later re-excision.
The goal is to get the surgery right the first time which is of utmost importance to physicians and patients and their outcomes. The imaging speed of S-Series OCT can be as fast as less than 1 minute per image, and a surgeon can review an entire sample within 15-30 minutes. Perimeter's proprietary tissue immobilization system maintains the tissue orientation according to the placement of the surgeon so that if a positive margin is identified, the surgeon will know exactly where to go back in to take more tissue.
The launch of Perimeter S-Series OCT began officially at the American Society of Breast Surgeons (ASBrS) (April 29 – May 1, 2021), where Perimeter had a virtual booth to present the technology and its features for breast cancer surgeons. They generated some promotional interest in this booth by jointly hosting a recent KOL webinar together with ASBrS, which we highly recommend viewing for KOL perspective on this system, which we have observed is overwhelmingly positive. The initial launch will target oncoplastic surgeons, regular cavity shave surgeons and frozen section surgeons. They will also target those who are ultrasound experienced since OCT imaging has some similarities with ultrasound but with higher resolution, and therefore the training on Perimeter S-Series OCT will be a lower hurdle for easier adoption. With a broad 510(k) approval, the initial target market will be breast conservation surgery, but as surgeons in other fields hear about this device from colleagues and learn about its capabilities, Perimeter has the ability to sell S-Series OCT for use with other indications accordingly with however the demand develops. This broad approval could enable their efforts to expand the market over time to additional settings.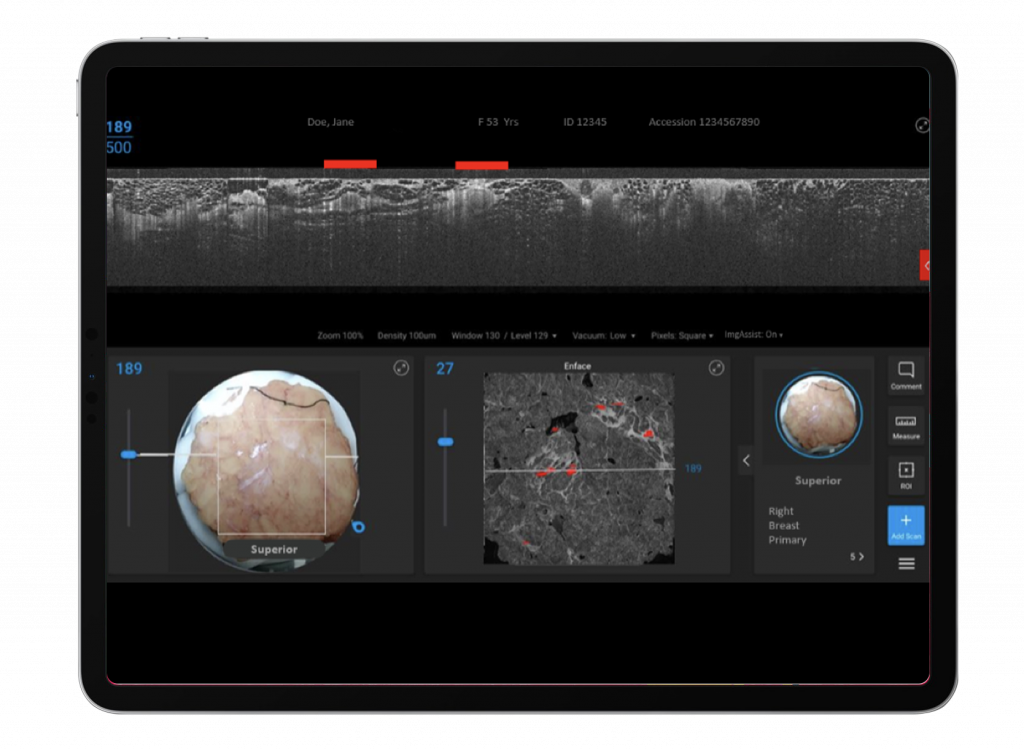 Update 2:  Promising Early data with ImgAssist AI Software – 94% Accuracy achieved in part 1 of ImgAssist development program
In our last report we projected the future of intraoperative breast cancer imaging with Perimeter's Optical Coherence Tomography (OCT) coupled with its developing artificial intelligence based image-reading software, ImgAssist. Given the promising early results with this technology recently announced by Perimeter, it is becoming clear that the future is not far away, and we believe ImgAssist has a strong likelihood of being approved and on the market within the next ~18 months with additional positive data readouts along the way.
As a reminder, ImgAssist is being developed under the ATLAS AI project, which is funded by a $7.4 million grant from CPRIT, the Cancer Prevention Research Institute of Texas. Renowned institutions such as MD Anderson and Baylor College of Medicine are collaborating on this research. The AI software is designed to automatically detect and flag regions of interest within the OCT image scans of excised cancer tissue to alert the surgeon about sites of possible positive margin in need of review and potential further surgical intervention. Eventually this AI software will be used as an "online" solution fitting seamlessly into the Perimeter OCT system and alerting the surgeon in real-time in the operating room with automated intraoperative image flagging to help the surgeon ensure the BCS is completed optimally, eliminating the need for reoperation in the weeks following an excision. The beauty of this AI software as a flagging system is that it provides highly accurate and reliable information overlaying the OCT imaging, to point the surgeon to regions of interest in the tissue sample while retaining the surgeon's agency over the operation and leaving ultimate decision-making about which flagged sites are actionable to the best judgement of the surgeon.
The ATLAS AI project is divided into three stages. The first stage involved the collection of breast OCT images from 400 patient lumpectomies at 4 trial sites followed by analysis of the pathology reports from these cases (indicating negative and positive margin status). These images were then reviewed by board-certified pathologists with OCT imaging expertise to ensure training data was correctly labeled for the algorithm. After training and testing the software with over 400 volumes of images from Perimeter's proprietary collection, the company reported a 0.94 AUC (area under receiver operating characteristic code) with ImgAssist. This is fantastic performance for an automated AI technology identifying suspicious tissue sites and positions the company well potentially demonstrate superiority in the upcoming pivotal study comparing to the current non-OCT standard of care imaging which results in high false positive and false negative rates which leads to the high real-world re-excision rates.
Next steps for ImgAssist Development program
The next phase of the development program will be a reader study evaluating trained surgeon performance using ImgAssist on BCS images off-line. This will lead finally to the ultimate evidence for this software later in 2021 in a randomized pivotal trial for positive margin identification compared to the standard of care without ImgAssist. The resulting re-excision rates will be compared and will establish the extent of real-world improvement that Perimeter OCT and ImgAssist (to be called Perimeter B-Series OCT) can offer. This hard evidence will be essential for marketing the AI-device to institutions and surgeons to present the value proposition in an objective, quantifiable way.  By virtue of its automation and AI capabilities, ImgAssist can greatly increase the addressable market for Perimeter's OCT technology by making the system more accessible to a wider variety of users, reaching beyond the targeted early adopter high volume institutions where recently approved S-Series OCT will be rolled out initially.
The stage 2 "reader study" is expected to be completed in Q2, allowing Perimeter to start readying clinical sites for its pivotal study, which could have interim data by the end of this year. The pivotal study will finish enrolling early next year with the potential to submit results to FDA for an approval by the 2nd half of 2022. Based on results to date with 94% AUC just reported, along with our confidence in AI applications to OCT imaging validated in other settings, plus the benefits of FDA Breakthrough Device Designation (see below), we believe ImgAssist has a very strong likelihood of approval by the end of next year and will fuel a powerful market expansion with the Perimeter B-Series OCT system.
Update 3: Breakthrough Device Designation granted by FDA for Perimeter B-Series OCT with ImgAssist AI software
In mid-April, the FDA granted Breakthrough Device Designation for the Perimeter B-Series OCT (incorporating  ImgAssist AI) for breast cancer surgical imaging. This designation is an acknowledgement by FDA that they consider this an innovative breakthrough method to treat patients, offering potential benefits over the current and developing methods used for BCS, and the designation comes with certain advantages that will help speed the development path of B-Series OCT with ImgAssist. Breakthrough Device Designation provides the company with additional FDA interaction and prioritization, which will help Perimeter generate the precise information FDA will need to grant marketing approval. It also comes with an automatic Medicare coverage under a new policy, Medicare Coverage of Innovative Technology, or MCIT, which guarantees up to 4 years of national medicare coverage from CMS as soon as it receives approval for marketing. Under this new policy, MCIT coverage can be activated by the company upon approval of B-Series OCT. The program is meant to encourage the use of innovative technologies in the Medicare population, and this should help drive more rapid market uptake of  B-Series OCT once it hits the market.
Update 4 – Stock listing, Warrant Acceleration, and finances
Since our last update, Perimeter is now listed on the US OTC market under ticker symbol PYNKF. A Nasdaq listing is planned within a timeframe of the next 12-18 months. As of last month, Perimeter completed an acceleration of the expiry date of share purchase warrants issued in June 2020 and generated a total of $8.3 million in proceeds for the company since the third quarter. This financing enables an aggressive marketing push for the official S-Series OCT launch and helps fund the continued development and commercialization programs through 2022. Perimeter is well-positioned to execute on its plans to build off of its initial product launch at ASBrS and sell the S-Series OCT to its targeted early adopter market.
The Investment Thesis
The opportunity in breast conservation surgery is vast with over 300,000 women in the US diagnosed with breast cancer each year and 2 million worldwide. Two thirds opt for BCS and 20-25% result in additional re-excision surgeries. About half of these reoperations have significant complications. A dramatic reduction in the BCS re-excision rate using Perimeter S-Series OCT would have a major impact on breast cancer patients, the quality of care surgeons can provide, and would reduce the costs to the healthcare system. When we consider how Perimeter is positioned to address this problem and we look across the imaging device space as a whole, the stock presents a compelling buying opportunity. As Perimeter grows its sales and further develops ImgAssist, more attention will be pointed at this company, not only from investors but also from potential suitors in the MedTech space.
The current stock price of Perimeter values the company at a market cap of around $145m.  For its initial commercial rollout, Perimeter is targeting potential early adopters at the top 500 US institutions in terms of lumpectomy surgery volume. These will largely be imaging-savvy surgeons, many of whom are already familiar with similar ultrasound imaging and are looking to improve upon the services they can provide to patients. If Perimeter can penetrate just 20% of the market, which we believe is a modest goal for a superior technology over the next several years, it would achieve $50 million in recurring revenue from single-use consumables alone. Applying a very reasonable 10x multiple results in a $500m market cap with plenty of room for additional upside, especially after B-Series approval for further geographic and indication expansion.
To explain why we think this outcome is likely, we make a comparison with a direct competitor in this field, the "MarginProbe" device from Dilon Technologies, which was approved in 2013. MarginProbe uses nearfield radiofrequency spectroscopy as a "scan" of the excised breast cancer tissue and provides a yes/no indication (of positive margin) to the surgeon without imaging and with uncertain depth of scanning. This device has had limited uptake mostly due to its modest results with only 75% sensitivity and 46% specificity. Perimeter S-Series OCT is far superior with 87% sensitivity and 80% specificity as published previously in its reader study (without any AI component). MarginProbe was an improvement over the standard of care but only modestly improved the re-excision rates (21% vs. 26%) in its pivotal trial, so it is not widely used. We believe that S-Series OCT is positioned favorably for strong uptake because of its superior accuracy and because it leaves decision-making agency in the hands of the surgeon who is supported with imaging for an informed decision, rather than placing trust a not-so-accurate device giving the final word as in the case of MarginProbe. Given the AUC of 0.94 that Perimeter achieved with ImgAssist, with accuracy pushed into the 90%+ range, Perimeter B-Series with ImgAssist should have much more dramatic impact on re-excision rates in its pivotal trial, which will make it very attractive to surgeons and drive higher adoption to potentially become the new standard of care.
In terms of AI imaging comps, while there is nothing competing in precisely the same field, we can look at the closest analogue. ICad, which developed an FDA-approved AI-based approach to mammography, uses AI to assist with 3D image digital breast tomosynthesis (DBT) for diagnosing breast cancer. In a very large study of ICad's AI tool run by the Karolinska Institute, it was found to have an AUC of 0.73 (KARMA study: https://pubs.rsna.org/doi/10.1148/radiol.2020201620). In a smaller reader study from 2019, ICad's AI tool improved DBT radiologist assessment AUC from 0.80 to 0.85. Although not used in exactly the same setting, ImgAssist's 0.94 AUC from its first development stage looks very impressive and gives us strong conviction that FDA approval will be achieved in 2022 and lead to strong market uptake.
In terms of valuation, Perimeter looks cheap just considering its primary indication, but the overall addressable market for this technology post-2022 is potentially massive when considering future applications for AI-assisted OCT imaging. This includes use with other solid tumor surgeries like colorectal, head and neck, prostate, and kidney cancer in addition to potential utility in biopsy and pathology applications. Looking across the imaging space in general there are lower resolution technologies like Xray and Ultrasound that are commanding multi-billion dollar valuations to stocks like NNOX and BFLY, respectively, for their innovative devices while still in the pre-revenue stage. Setting aside differences in indication and market size projections, it is striking that neither of these devices have breakthrough device designation as Perimeter B-Series with ImgAssist now does. It will now be up to Perimeter's team to keep executing on the vision and conveying to investors the massive opportunity in front of them to generate more interest in the stock.  We like owning it ahead of the crowd and believe the timing is particularly favorable to buy with the stock currently significantly off its 2021 highs.
 Technical Analysis:
Perimeter is trading on the Canadian stock market under the symbol PINK.v while the US listing is on the OTC, trading with the ticker PYNKF that reflects the Canadian price. As mentioned, the company expects to be uplisted and start trading in the Nasdaq within the next 12-18 months.
As you can see in the chart, PINK.v started trading on 07/06/2020 and moved fast from the C$1.50 area to reach the high of C$2.49. Then a technical correction followed this quick move, which can be the result of some quick profit taking by traders, while investors are in this name for the long run.
After trading sideways for almost 4 months, the second breakout came in early January 2021 where the share price printed a New-52W high almost every 2 weeks and printed a 2021 high at C4.87 back in mid-March.
As with any run up, profit-taking is bound to occur, leading to the price entering a technical correction. These days the price is getting closer to the support line around $3.35, that should serve as a strong base. On the other hand, the Stochastic is already deep into the Over-Sold territory where long term investors start buying the dip and accumulating more shares for the long run.
For those who are looking to add to their position, or start a new position, keep watching the daily chart for a sign of a reversal pattern. If this occurs, expect the bounce to move quickly in an upward trajectory similar to the previous breakouts.
Disclosure: Author is LONG PINK.v